the angel
See the discussion concerning the identity of the angel at Revelation 1:20.
church in Thyatira
See Seven Churches of Asia.
Thyatira means "sacrifice of labor; odor of affliction."1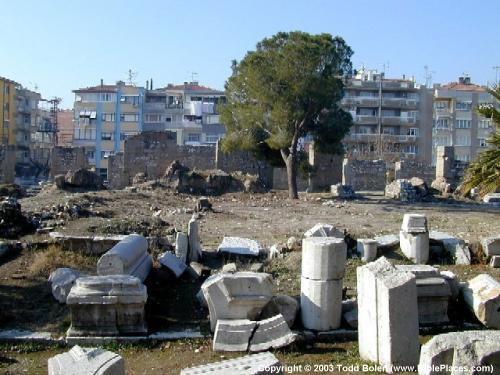 2
Thyatira is very rarely mentioned in ancient literature, and its site is covered by the modern town of Akhisar, which betrays few outward signs of its past and whose presence has prevented excavation. . . . Thyatira is first know to us as a Seleucid colony, whose foundation is ascribed to Seleucus Nicator at the time of his war with Lysimachus. . . . The increasing abundance of later inscriptions suggests that Thyatira, still of limited importance at the time of the Revelation, reached a peak of prosperity in the second and third centuries. The words of Rev. Rev. 2:19+ were addressed to a growing church in a growing city.3
The most outstanding feature in Thyatiran life was probably the institution of trade-guilds. . . . At Thyatira there were guilds of bakers, potters, workers in brass, tanners, leather-cutters, workers in wool and flax, clothiers, dyers; the workers in wool and the dyers were probably the most numerous, for the manufacture and dyeing of woollen goods was a Lydian speciality, in which Thyatira excelled.4
Not surprisingly, religion played no major role in Thyatira's way of life, for it was not a major center of Caesar worship or Greek worship; its local god was Tyrimnus, a horse mounted god, armed with a battle-ax and a club. The only notable thing about Thyatira religiously was that it was home to the oracle Sambethe, an oracle presided over by a female fortune teller.5
This church may have been established from Paul's ministry to Lydia (Acts
Acts 16:14
).
"At the riverside at Philippa Lydia, a seller of purple of Thyatira became the first recorded Christian convert in Macedonia (Acts Acts 16:14)."6
Thyatira was famous for a purple or crimson dye manufactured from the madder root, which was a cheap rival for the expensive Phoenician murex dye made from a particular marine shellfish. Acts Acts 16:14 attests to this specialty, for the Philippian convert, Lydia, was a seller of purple fabrics who hailed from Thyatira (she was 300 miles from her home city).7
Son of God
Frequent allusions to Psalm
Ps. 2:1
in the letter to Thyatira underscore both the judgment of
Jezebel
and her children (Rev.
Rev. 2:22-23
+
) and the promises made to the overcomer who is given
"power over the nations"
(Rev.
Rev. 2:26
+
). (See Rev.
Rev. 2:18
+
cf. Ps.
Ps. 2:9
; Rev.
Rev. 2:26
+
cf. Ps.
Ps. 2:8
; Rev.
Rev. 2:27
+
cf. Ps.
Ps. 2:9
.
8
) This is the first instance in the letters to the
seven churches
where the self-identification of Christ is in the form of a title rather than a descriptive attribute.
9
eyes like a flame of fire
The church at Thyatira had been allowing Jezebel to promote her unscriptural teaching in their midst (Rev. Rev. 2:20+), but not the slightest detail had escaped the eyes of the Master. As discussed in Revelation 1:14, the eyes like a flame of fire indicate His omniscience and omnipresence. He is well aware of what is happening within the church at Thyatira, especially those things he opposes (Rev. Rev. 2:20+).
feet like fine brass
Fine brass is translated from a word of unknown derivation (only occurring here and in Revelation Rev. 1:15+) which probably denotes bright shining metal or perhaps its purity or hardness. See commentary on Revelation 1:15.
The imagery of both eyes and feet is that of impending judgment upon Jezebel and her children (Rev. Rev. 2:22-23+). The judgment will serve as a witness of His omniscience: "All the churches shall know that I am He who searches the minds and hearts" (Rev. Rev. 2:23+).
---
Notes
1 Jerome Smith, The New Treasury of Scripture Knowledge (Nashville, TN: Thomas Nelson Publishers, 1992), Rev. 2:18.
2 Copyright © 2003 www.BiblePlaces.com. This image appears by special permission and may not be duplicated for use in derivative works.
3 Colin J. Hemer, The Letters to the Seven Churches of Asia in Their Local Setting (Grand Rapids, MI: William B. Eerdmans Publishing Company, 1989), 106-107.
4 Henry Barclay Swete, The Apocalypse of St. John (Eugene, OR: Wipf and Stock Publishers, 1998, 1906), lix-lx.
5 Monty S. Mills, Revelations: An Exegetical Study of the Revelation to John (Dallas, TX: 3E Ministries, 1987), Rev. 2:18.
6 Hemer, The Letters to the Seven Churches of Asia in Their Local Setting, 109.
7 Mills, Revelations: An Exegetical Study of the Revelation to John, Rev. 2:18.
8 Richard Chenevix Trench, Commentary on the Epistles to the Seven Churches in Asia (Eugene, OR: Wipf and Stock Publishers, 1861).
9 E. W. Bullinger, Commentary On Revelation (Grand Rapids, MI: Kregel Publications, 1984, 1935), 186.