Within the Old Testament, there are many nuggets of wisdom to take in, with whole books dedicated to the subject. The wisest man to ever walk the earth, King Solomon, wrote several books, including Proverbs. Many of these proverbs come in poetic form; some of them are long, symbolic narratives, while others are brief couplets full of truth. One such statement is, "Iron sharpens iron, and one man sharpens another" (Proverbs 27:17).
Sometimes these metaphoric statements can be difficult to understand, especially when they are taken out of context. Most Christians thinkers believe this statement regarding iron sharpening iron relates to having a good friend, honesty that improves one's character and calls out sin in a loving way; though there are some who believe it refers to someone who brings down another, and argue it is a negative statement.
Either way, the phrase "iron sharpens iron" from Proverbs 27:17 highlights the important truth that people affect one another, words and actions define relationships for better or worse, and they change people, so people need to act accordingly.
Proverbs 27 falls towards the end of the book, as there are 31 chapters. It is grouped with several other chapters which are labelled as having been written by King Solomon, the son of David and the builder of the temple, copied later by men who worked for King Hezekiah of Judah. Solomon's reign was around 970-931 BC, while Hezekiah's was from 715-686 BC, two centuries later.
The verses in Proverbs are full of advice, many of which are about positive and negative interactions and behaviors. Some examples include:
"Let another praise you and not your own mouth; a stranger, and not your own lips" (Proverbs 27:2).
"Better is open rebuke than hidden love" (Proverbs 27:5).
"As in water face reflects face, so the heart of man reflects the man" (Proverbs 27:19).
"Sheol and Abaddon are never satisfied, and never satisfied are the eyes of man" (Proverbs 27:20).
In the middle of these verses is, "iron sharpens iron, and one man sharpens another." However, the back half is sometimes given as, '...sharpens the face of another.' Like many of the Proverbs, it uses metaphor to make its point.
What Does "Iron Sharpens Iron" Mean?
When creating a metal blade, it is often sharpened, and then maintained through its life, by dragging it against a harder metal. Without this maintenance, a blade will become dull and less useful.
During the life of Solomon, many weapons, pieces of armor, and tools were made of iron. It would not have been a highly refined version of metal, like steel. It was also not necessarily consistent in how hard or soft it was. A tool would have been sharpened, ground against something harder, to make it smoother, remove deformities, and maintain its ability to cut. When iron is scraped against another material in this way, it becomes more refined. The metaphor in the first half of the verse refers to a common practice with which many would have been familiar.
The second half of the verse explains the metaphor. Like a piece of hard iron will sharpen another piece of iron, the interactions between two people will shape and change one another. Most scholars and theologians interpret this changing as a refinement of character. Being in the presence of a strong believer can help refine another person. Earlier verses in the chapter reflect this idea, "Better is open rebuke than hidden love. Faithful are the wounds of a friend; profuse are the kisses of an enemy" (Proverbs 27:5-6). An honest acquaintance will lovingly address when someone they care about is doing something wrong or struggling with a decision.
It is also in alignment with philosophies of behavior encouraged in the New Testament; "Therefore encourage one another and build one another up, just as you are doing" (1 Thessalonians 5:11). Calling out sin, encouraging each other, and lifting one another up in prayer are all ways of sharpening one another.
Like both metals are altered by the sharpening process, both believers who interact with one another have an impact on each other. If a believer disciples another, they grow as well. Their understanding of the Bible can grow, they can deepen their relationship with God, and have new experiences.
Some note that sometimes these relationships can have negative impacts on one another. People pour into someone, and can give too much. One person can introduce the other to a bad habit. A minority of scholars argue this negative interpretation is more biblically accurate. For example, Ronald Giese argues, "...the biblical evidence for parts of a face that are 'sharp' suggests a more negative reading for sharp eyes or a sharp tongue show an intent to do violence or bring about destruction." Essentially, the use of the Hebrew word, translated sharp in this verse - יָ֑חַד - is used elsewhere to connote scheming or ill intent.
An example of how this word is used somewhere else in the Old Testament is, "'Son of man, prophesy and say, Thus says the Lord, say: 'A sword, a sword is sharpened and also polished, sharpened for slaughter, polished to flash like lightning!'" (Ezekiel 21:9-10a). It is an interesting interpretation, and does align with the idea the verse is about. However, most scholars argue the impact is for the better.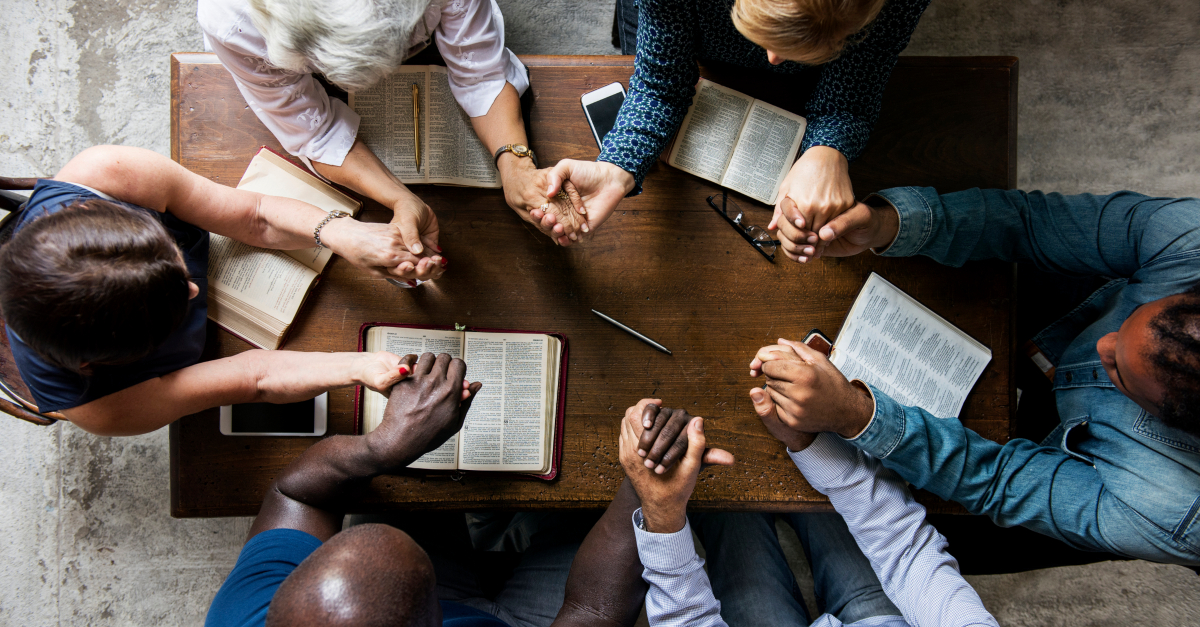 Photo credit: ©Getty Images/Rawpixel
Where Else in the Bible Do We See Believers Strengthening One Another?
God wants Christians to challenge one another, and strengthen the community in love as a family, because they are all the sons and daughters of God. In the New Testament, particularly in the epistles, the writers put a particular emphasis on it.
Some of these verses include:
"Let no corrupting talk come out of your mouths, but only such as is good for building up, as fits the occasion, that it may give grace to those who hear" (Ephesians 4:29).
"So then let us pursue what makes for peace for mutual upbuilding" (Romans 14:19).
"But exhort one another everyday, as long as it is called 'today', that none of you may be hardened by the deceitfulness of sin" (Hebrews 3:13).
"Is anyone among you suffering? Let him pray. Is anyone cheerful? Let him sing praise" (James 5:13).
"But you, beloved, building yourselves up in your most holy faith and praying in the Holy Spirit, keep yourselves in the love of God, waiting for the mercy of our Lord Jesus Christ that leads to eternal life" (Jude 1:20-21).
"My brothers, if anyone among you wanders from the truth and someone brings him back, let him know that whoever brings back a sinner from his wandering will save his soul from death and will cover a multitude of sins" (James 5:19-20).
How Can We Sharpen One Another Today?
These many ways of lifting one another up mentioned in the Bible still apply today. Singing songs to God together, reading the Word, and praying for one another is a great start. Learning more about one another so as to help each other in their specific weaknesses is a way to be supportive, and grow stronger in character.
Availability is so important. Many serve one another by providing meals, time, and energy in each other's daily lives. This builds trust, meaning believers can challenge each other in more personal ways, such as about deeply rooted sin.
For those who believe this verse is a warning, it reminds believers to be careful about what habits they pick up from others, and to guard their hearts. Regardless of whether someone subscribes to the idea that sharpening improves a thing, or makes it worse, this verse emphasizes how actions and words have consequences, and affect others. People do not live in a vacuum, and the way they are treated will leave a lasting impact.
Sources
Ford, Errick. Iron Sharpens Iron Wisdom for the Ages. Mustang: Tate Publishing & Enterprises, 2010.
Giese, Ronald L. ""Iron Sharpens Iron" as a Negative Image: Challenging the Common Interpretation of Proverbs 27:17." Journal of Biblical Literature 135, no. 1 (2016): 61-76. Accessed February 23, 2021. doi:10.15699/jbl.1344.2016.2997.
MacArthur, John. The MacArthur Study Bible. New York City: Harper Collins Publishing, 2015.
Photo credit: ©Getty Images/crossstudio
Bethany Verrett is a freelance writer and editor. She maintains a faith and lifestyle blog graceandgrowing.com, where she muses about the Lord, life, culture, and ministry.