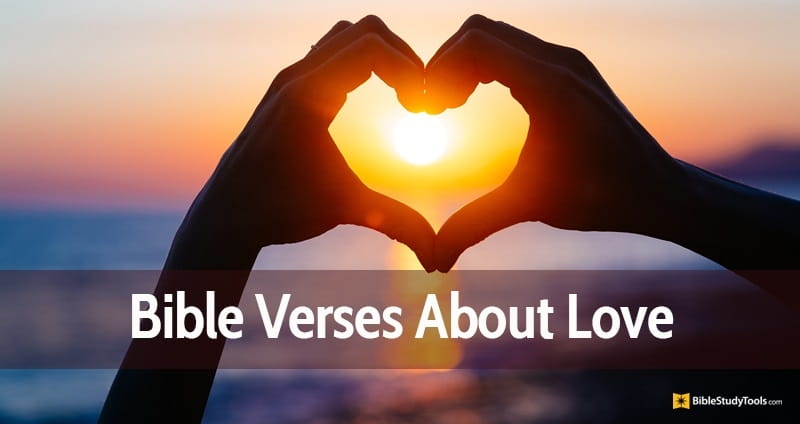 Bible Verses about Love: These scripture quotes about love are a compilation of Bible verses on loving others, love within marriage, loving enemies, and agape love (God's love).
The Bible says that God is love, which makes the Word of God the perfect source to know what love means and how we can be loving neighbors. Bible verses about love reveal that our world has skewed the meaning of true love but God's Word remains a steadfast, true source of knowledge. Read and meditate on this list of scriptures about love from the Holy Bible and begin seeing the change in your heart and mind that comes from pursuing self-less love! May these Bible verses about love remind you of God's love and what it means to love others.
"And above all these put on love, which binds everything together in perfect harmony." (Colossians 3:14)
"Let all that you do be done in love." (1 Corinthians 16:14)
Jump to different topics of Bible Verses about Love:
Bible Verses About Love
First, we have gathered some of the most famous and popular
Bible
verses about love. These scriptures on love are well known for their simple yet powerful message of God's love and the love we should share with others.
Read and pray with these Bible verses about love:
Bible Verses About God's Love
God is love! If we want the perfect example of love, it is in our creator God. Often, God's love is referred to as agape love which is the highest form of love that is selfless and sacrificial. It is steadfast, unchanging, and unconditional. Below are a few Scripture examples of God's great love for you! May these Bible verses about the love of God inspire courage and compassion.
"Dear friends, let us love one another, for love comes from God. Everyone who loves has been born of God and knows God. Whoever does not love does not know God, because God is love." ~ 1 John 4:7-8


"This is how God showed his love among us: He sent his one and only Son into the world that we might live through him. This is love: not that we loved God, but that he loved us and sent his Son as an atoning sacrifice for our sins. Dear friends, since God so loved us, we also ought to love one another. No one has ever seen God; but if we love one another, God lives in us and his love is made complete in us." ~ John 4:9-12


"And so we know and rely on the love God has for us. God is love. Whoever lives in love lives in God, and God in them. This is how love is made complete among us so that we will have confidence on the day of judgment: In this world we are like Jesus. There is no fear in love. But perfect love drives out fear, because fear has to do with punishment. The one who fears is not made perfect in love." ~ 1 John 4:16-18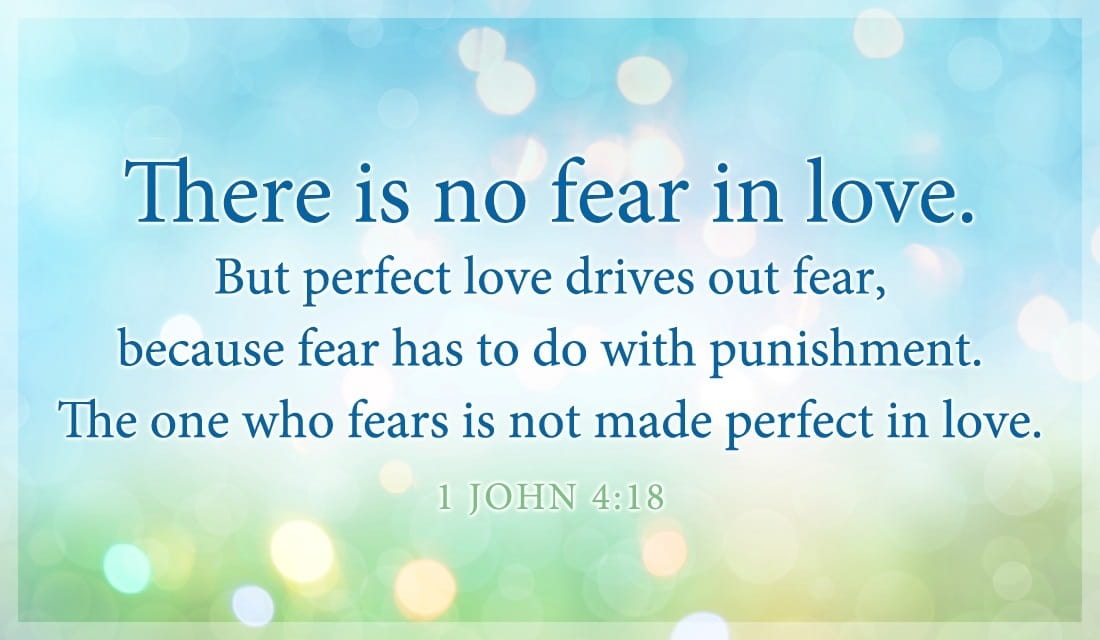 Bible Verses About Love in Relationships
As Christians and followers of Jesus Christ, the Bible tells us that the world will know us by our love. The greatest testimony that we can be is to love those around us - whether family, friends, or strangers. The below Scriptures about love will guide you in choosing to "put on love"! May we know the love of God and share that love with others throughout our life.
"If I speak in the tongues of men or of angels, but do not have love, I am only a resounding gong or a clanging cymbal. If I have the gift of prophecy and can fathom all mysteries and all knowledge, and if I have a faith that can move mountains, but do not have love, I am nothing. If I give all I possess to the poor and give over my body to hardship that I may boast, but do not have love, I gain nothing." ~ 1 Corinthians 13:1-3


"Love is patient, love is kind. It does not envy, it does not boast, it is not proud. It does not dishonor others, it is not self-seeking, it is not easily angered, it keeps no record of wrongs. Love does not delight in evil but rejoices with the truth. It always protects, always trusts, always hopes, always perseveres. Love never fails." ~ 1 Corinthians 13:4-8


"Love must be sincere. Hate what is evil; cling to what is good. Be devoted to one another in love. Honor one another above yourselves." ~ Romans 12:9-10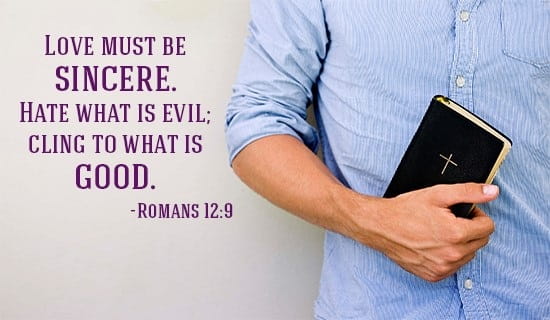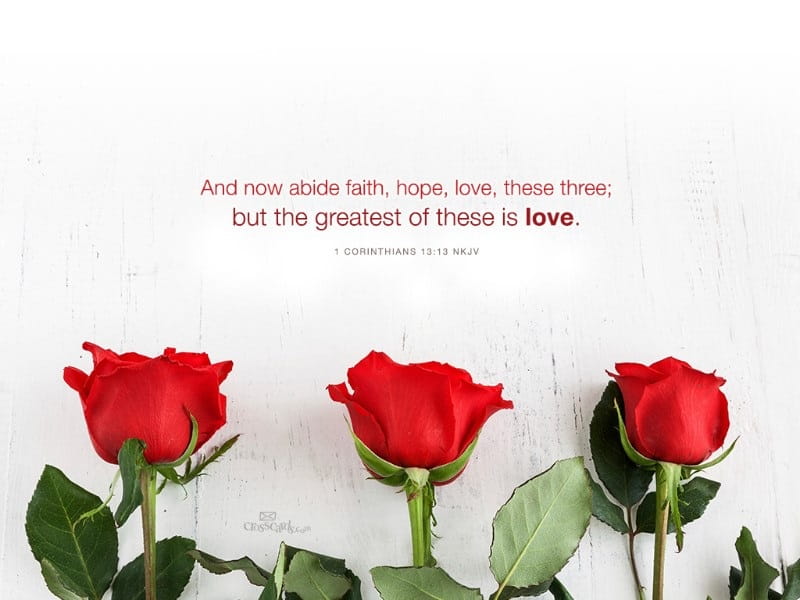 Bible Verses About Love in Marriage
God created and instituted marriage. Bible verses about love show us the importance of marriage and how to be a loving spouse through commitment and appreciation. The Bible is the true source for the definition of marriage and the roles of husband and wife. Whether you are looking for Scripture to include in your wedding vows during the ceremony or looking to renew the love in your marriage, this collection of Bible verses about love will provide excellent encouragement and inspiration.
Bible Verses About Loving Your Enemies
The idea of loving and forgiving our enemies sounds completely ridiculous at times. It is our human nature to want to defend ourselves and fight back. However, if we are called to be like Jesus, we are called to forgive those who hurt us. Loving your enemy is less about reconciling a relationship and more about the condition of your heart! Here is a collection of Scriptures about love that will bring you peace and encourage forgiveness for those who trespass against us.
Christian Resources on Love