3 Psalms to Help with Forgiveness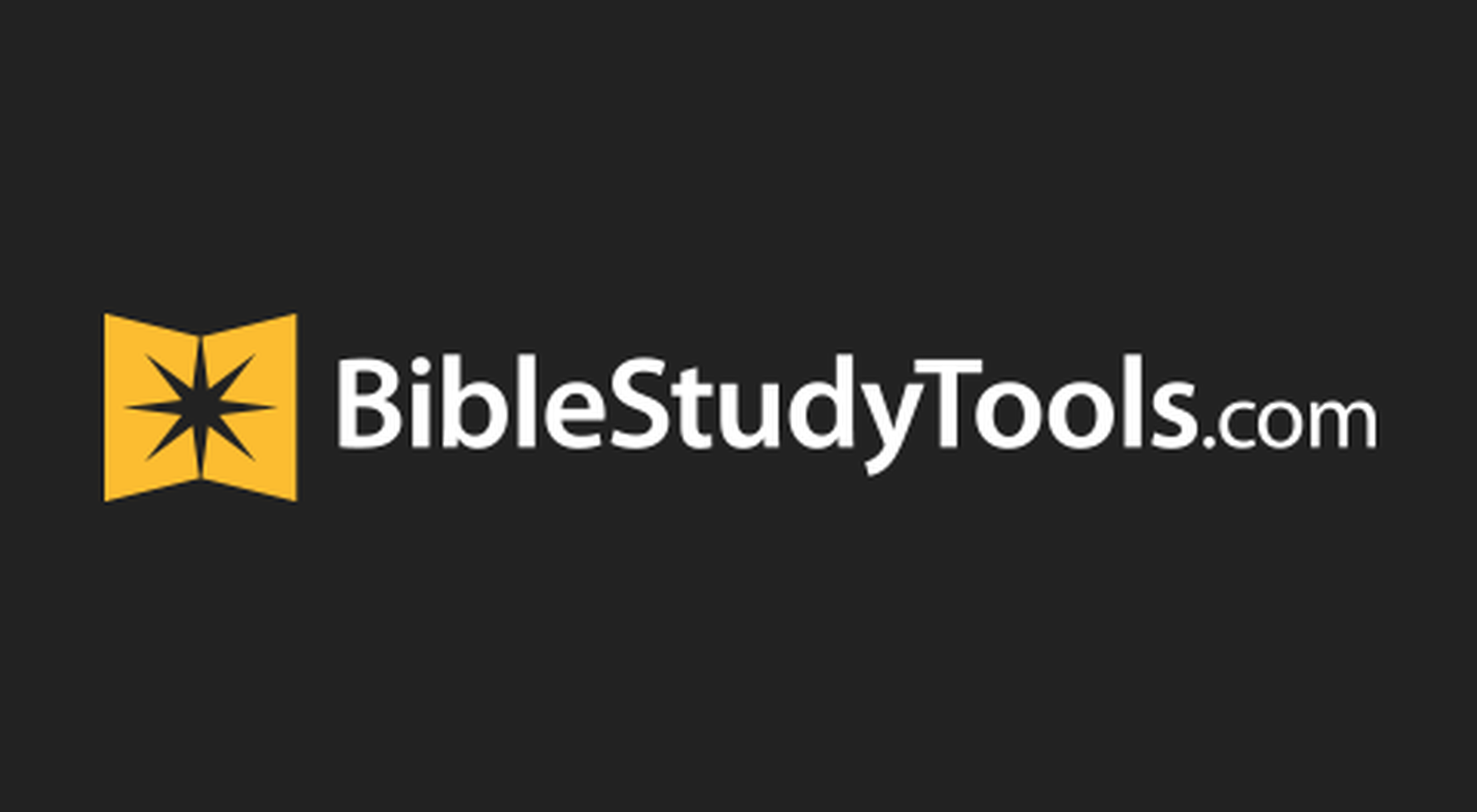 One of the biggest themes of the whole Bible is forgiveness. The story of the Bible is the story of how God extends forgiveness to sinful humanity through Jesus Christ. The Lord calls for His followers to forgive, even incorporating the two-way path of forgiveness into His model prayer. We are to go to God in repentance asking for forgiveness, while we are to forgive those who wrong us (Matthew 6:12).
The Word of the Lord is full of verses to remind us that we need to forgive, and that we need forgiveness. The Psalms, of course, are full of reminders for both. King David, a man who needed to forgive and needed forgiveness, wrote many of the Psalms. Within these verses are the special reminders from the Word, telling us the truth of the world, full of sin and wickedness, and presenting the cure for those ills - to ask for forgiveness and to forgive.
Here are three powerful Psalms for forgiveness, whether for the strength to extend it, or to ask for it.
Key Verses: 9-12 "He will not always chide, nor will he keep his anger forever. He does not deal with us according to our sins, nor repay us according to our iniquities. For as high as the heavens are above the earth, so great is his steadfast love toward those who fear him; as far as the east is from the west, so far does he remove our transgressions from us."
A psalm of praise that is believed to have been written by King David later in his life, the focus of this poem is glorifying the Lord for His mercy and the greatness of His forgiveness. At this point in his life, David knew the weight of sin, and the breadth of the Lord's goodness. It can be easy as believers - especially without the regular reminder that even small sins have a cost - to become complacent in salvation, and forget to glorify the Lord.
This psalm begins by reminding people to remember the benefits of God, and then lists some of those benefits. The first and foremost is that God, "...forgives all your iniquity" (Psalm 103:2). David addressed the reasons for this great mercy as well; "The Lord is merciful and gracious, slow to anger and abounding in steadfast love" (Psalm 103:8). Though a believer may stumble every day, God helps His children get back up, extending grace and forgiveness because of His love. This psalm serves as an excellent reminder to marvel at the great gift of the Lord's salvation and forgiveness!
In verses 13 and 14, David marvels at the fatherly love of God. The Lord is patient and understands that humanity is weak, mere dust. During His earthly ministry, Jesus would tell the story of the prodigal son, with the father ready and eager to forgive, as an illustration of His desire to forgive us. Give thanks for God's forgiveness, and do not be afraid to humbly ask Him for it after a stumble.
Key Verses: 9-11 "Hide your face from my sins, and blot out all my iniquities. Create in me a clean heart, O God, and renew a right spirit within me. Cast me not away from your presence, and take not your Holy Spirit from me."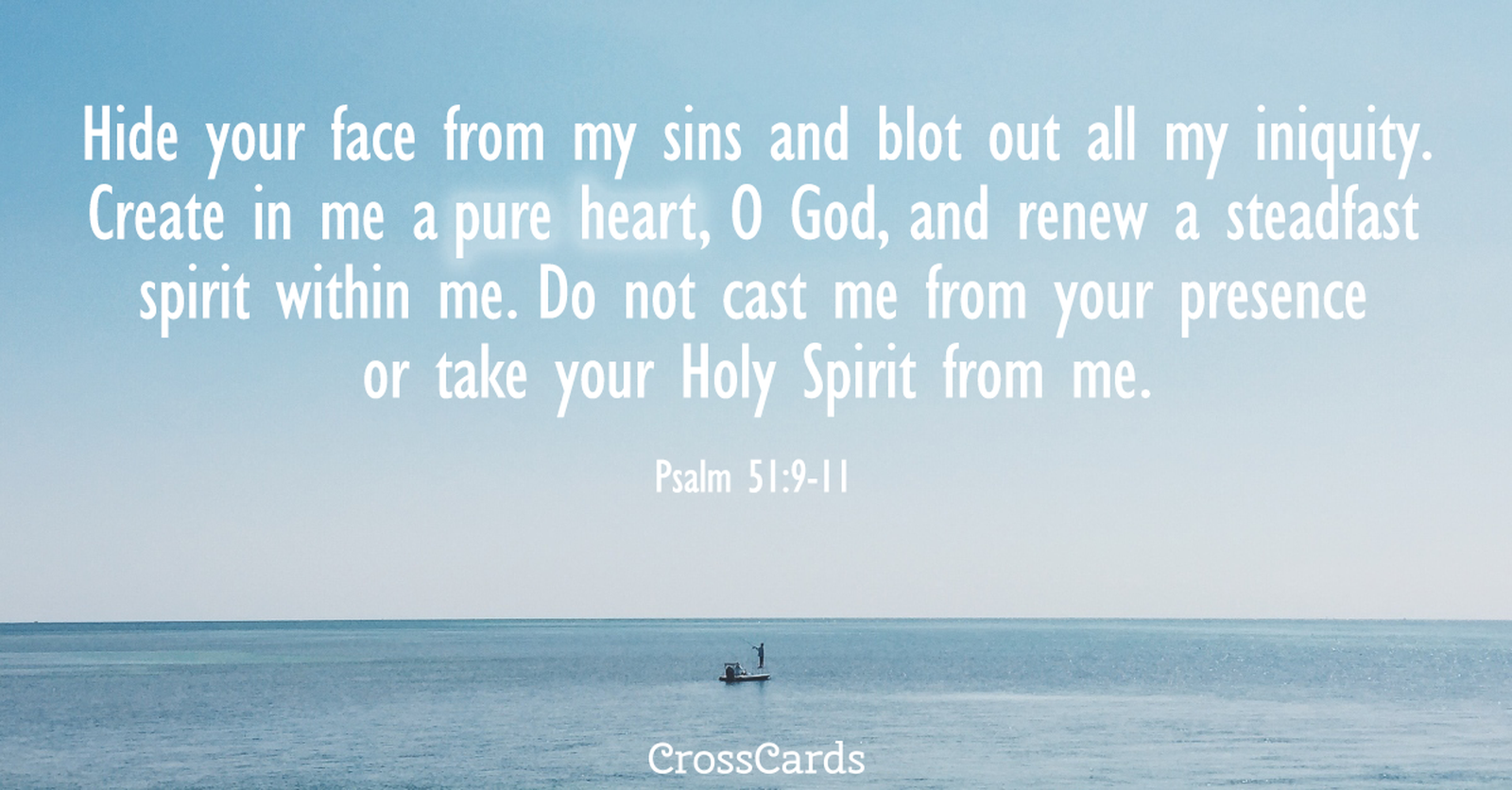 Photo credit: Bethany Pyle/Crosscards.com
This psalm is one of the most famous psalms for forgiveness. It is commonly believed that this psalm was written by King David after being confronted about his affair with Bathsheba and Uriah the Hittite. The verse Psalm 51:4a, "Against you, you only, have I sinned and done what is evil in your sight," is often quoted to show the depth of human sin, and the need to seek forgiveness from the Lord, and not just from the individual or group of individuals that may have been harmed. All sin is against God. As the Holy Creator, an offense against one of His created beings or against His moral law is an offense against Him.
One of the most powerful concepts from this psalm highlights the insufficiency of the sacrificial system, and the need for the sacrifice that would be fulfilled in Jesus Christ: "For you will not delight in sacrifice, or I would give it; you will not be pleased with a burnt offering. The sacrifices of God are a broken spirit; a broken and contrite heart, O God, you will not despise" (Psalms 51:16-17). God accepted the offerings of the sacrificial system, but what He really wants is our sincere repentance. If a sinner will turn to Him and turn from his sins, God will most assuredly forgive.
After the death and resurrection of Jesus Christ, He will even credit to the believer the righteousness of Jesus Christ, as mentioned in 2 Corinthians 5:21, " For our sake he made him to be sin who knew no sin, so that in him we might become the righteousness of God." David highlights God's mercy in the face of great evil and many sins, and rejoices in it, as should believers today.
Key Verse: 5 "I acknowledge my sin to you, and I did not cover my iniquity; I said, 'I will confess my transgressions to the Lord,' and you forgave the iniquity of my sin.
Another psalm commonly attributed to David, this psalm of forgiveness focuses on the experience and torment of the guilt of sin, compared to the mercy and joy of finding forgiveness from God. It begins by highlighting the greatness of God's capacity for forgiveness, and immediately follows that up by decrying what it felt like to be under the weight of a wicked act.
He declares, "For when I kept silent, my bones wasted away through my groaning all day long" (Psalm 32). Sin eats away at the soul and binds the individual further to sin. For someone who already has a relationship with the Lord, the separation from communion with God is palpable and real. For unbelievers, they may not even realize the weight they carry until they come to salvation!
The Lord goes from having a heavy hand on the psalmist in verse four to surrounding him with "shouts of deliverance" in verse seven. The Lord redeems and the redemption is in full. Trusting the Lord with salvation leads to peace and love. Releasing sins to God is a relief of our burdens, crucial for believers to sustain a healthy walk with their Savior.
The Psalms are full of cries for forgiveness, even in songs where forgiveness was not the main theme. The ability to extend forgiveness to others is a key trait of a born-again believer, especially in light of the sinfulness God has forgiven in the believer. Pouring through the Psalms will often convict, fortunately, it also provides the answer. Repent and ask for forgiveness! God's desire to forgive is so great that He sacrificed His Son Jesus Christ so all of humanity could turn to Him for redemption.
Photo credit: Unsplash/Gus Moretta
Sources
Eerdman's Commentary on the Bible. Edited by James D.G. Gunn and John W. Rogerson. Grand Rapids: Wm. B. Eerdmans Publishing Co., 2003.
Henry, Matthew. Matthew Henry's Commentary on the Whole Bible: Complete and Unabridged. Peabody: Hendrickson Publishers, 2008.
Merriam-Webster Dictionary. "forgiveness,", accessed November 29, 2019. https://www.merriam-webster.com/dictionary/forgiveness.
---
Bethany Verrett is a free-lance writer and editor. She maintains a faith and lifestyle blog graceandgrowing.com, where she muses about the Lord, life, culture, and ministry.
Bethany Verrett is a freelance writer who uses her passion for God, reading, and writing to glorify God. She and her husband have lived all over the country serving their Lord and Savior in ministry. She has a blog on graceandgrowing.com.