Whenever there is a trial taking place in life or we just need to be reminded of God's power, we can turn to Psalm 28. Within this beautiful passage, David shares, "The Lord is my strength and shield." Why is this so encouraging, especially in hard times? Today we are going to unpack the value of holding on to the fact that God is our Strength, and He is our Shield.
What Does 'the Lord Is My Strength and Shield' Mean?
We are in the thick of college football season. When I think about strength, I think about offense. They are pressing forward, throwing far, and running fast. When I think about a shield, I ponder defense. I imagine a barricade of football players blocking the offense and stopping the ball from moving forward. For us, the Lord is both. He is fighting on our behalf and moving us forward, but He is also blocking us from the attacks of the enemy.
Joel Ryan from Christianity shares, "David's declaration that "the LORD is my strength and my shield" is an encouragement to believers of all generations, for even today, the LORD provides strength to those who trust in Him, as He is a shield to those who take refuge in His presence."
Whenever I feel as if I am in the midst of a spiritual battle, I need God to help me move forward and I need Him to guard me as I make strides. There is a spiritually dark group on the college campus that I serve. Normally, I would be freaked out by who they are and what they represent, but I have noticed an inner confidence and peace from the Spirit when around them. When we have Christ's Spirit in us, we have victory. That is the point of this passage. I do not bring strength, I do not bring a shield, but I bring with me the Spirit of the Living God and He is those things for me.
What Is the Context of Psalm 28:7?
Psalm 28:7 says, "The Lord is my strength and my shield; my heart trusts in him, and he helps me. My heart leaps for joy, and with my song I praise him."
Matthew Henry's Bible Commentary describes Psalm 28 as, "A prayer in distress. (1-5) Thanksgiving for deliverance. (6-9)"
David was crying out to the Lord in need of help and then thanking Him for freedom. David went straight to the One who he knew was his help. The beginning of this Psalm is David pouring out his heart. The second half is thanksgiving and declaring who God is as a celebration of having the victory in Christ. Believers to this day can hold on with confidence that this is the Lord's promise not only to David but also to us as well.
David Guzik from Enduring Word shares, "In this psalm we see the heart in a few different aspects: the evil heart (Psalm 28:3), the trusting heart (Psalm 28:7), and the rejoicing heart (Psalm 28:7)." He goes on to say, "This is the blessing given to the heart that trusts God; God becomes their strength. He doesn't merely give strength; He is their strength, and the refuge of His anointed."
I love how verse 7 is describing a trusting and rejoicing heart. It is as if David poured out his own struggles and then reminded his soul who was in control. David says, "My heart trusts in him, and he helps me." Even in the trial, David is reminding himself that he trusts in God and that God helps him. I love the second half of this verse as well, "My heart leaps for joy, and with my song I praise Him." David can even have joy and worship the Lord through song.
David was a man with a lot of different emotions. However, within his feelings, he knew and modeled how to channel his thoughts and emotions by bringing them to God. In verse 7, David affirms who God is and voices his trust in Him. It speaks volumes that David turned his trials into worship sessions. He redirected his difficulties by thanking and worshipping the One who was His true help. We would be wise to follow David's example in this.
What Does the Bible Say about Shields?
The word shield shows up many times in the Bible. First of all, I think of the shield of faith we are called to take up in spiritual battles. This is found in Ephesians 6:16. There is also the covenant between God and Abraham where the Lord says, "Do not be afraid, Abram. I am your shield, your very great reward" (Genesis 15:1).
We also see a shield used as something that hides (Exodus 27:1, Exodus 30:6, Exodus 35:15, etc.). A shield covers, this moves me to think about Psalm 91:1-2, "He who dwells in the shelter of the Most High will rest in the shadow of the Almighty. I will say of the LORD, 'He is my refuge and my fortress, my God, in whom I trust.'"The concept of the shadow of the Almighty connects with the shield God is to us. He is the one who we can come to be to be protected from the harsh world. We can find rest and peace in Him.
Shields are mentioned in war and in the guarding of a king. When we think about this humbling thought of our King Jesus being the one who is guarding us, it is amazing. The backwards way of doing things is incredible. Jesus came to serve and not be served. The way of Jesus is the way of the unexpected, vast, self-sacrificing love. Could you imagine a common citizen being guarded by kings instead of a king being guarded by commoners? This is basically the picture of the Gospel. The King of Kings came down to be our strength and die on the cross to raise Himself back to life so that we would be shielded from the eternal punishment of sin and the devil.
Other verses about God being our shield include 2 Samuel 22:3, 2 Samuel 22:31, Psalm 7:10, Psalm 33:20, etc.
Josie Siler from Crosswalk says, "It doesn't surprise me that David equates the Lord with being His shield. As much as David counted on his weapons of war for victory, he counted on the Lord even more. He had experienced God's protection. He had seen God defend him from the attacks of King Saul and other enemies time and time again."
Why Is 'the Lord Is My Strength and Shield' so Comforting?
The fact that the Lord is our strength and our shield is extremely comforting because it teaches us that He is the One we depend on. On our best and worst days, the Lord is our support. We know that we do not have to depend on ourselves. This is a huge relief knowing that we are not responsible for our spiritual strength and shielding. We are broken sinners in need of the Savior. He is more than able to help us walk each day dependent on Him.
Whether we feel like we are playing a spiritual football game and struggling on offense, defense, or both, we can be reminded that we are on God's team. We can trust that His Word is true and eternal. Our drive to move forward and protection around us does not come by anything we can muster, but simply by the faith in Jesus' work that He's actively looking out for us in this life.
Photo credit: © Getty Images/Massonstock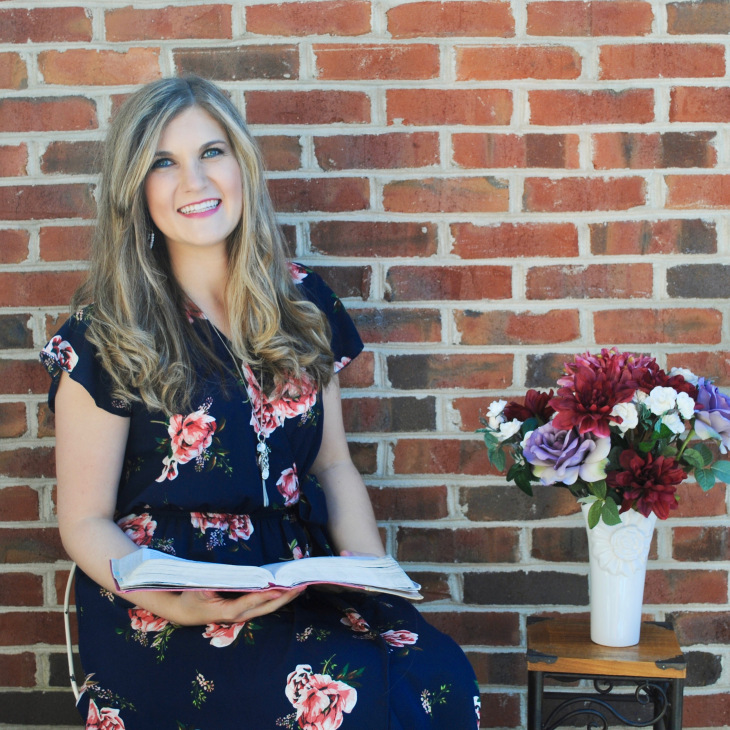 Emma Danzey's mission in life is to inspire young women to embrace the extraordinary. One of her greatest joys is to journey with the Lord in His Scriptures. Emma is a North Carolina resident and green tea enthusiast! She is married to her husband Drew and they serve international college students. She enjoys singing, dancing, trying new recipes, and watching home makeover shows. During her ministry career, Emma recorded two worship EP albums, founded and led Polished Conference Ministries, ran the Refined Magazine, and served in music education for early childhood. Currently, she is in the editing stages of her first two writing projects: a Bible study on womanhood and a non-fiction book on singleness. You can visit her blog at emmadanzey.wordpress.com
---
This article is part of our larger resource library of popular Bible verse phrases and quotes. We want to provide easy to read articles that answer your questions about the meaning, origin, and history of specific verses within Scripture's context. It is our hope that these will help you better understand the meaning and purpose of God's Word in relation to your life today.
Listen to our Daily Bible Verse Podcast Now!