The immediate audience for the Revelation recorded by John is "the seven churches which are in Asia" (Rev. Rev. 1:4+, Rev. 1:11+). Asia is not the Asia of our day which is the world's largest continent stretching from the Pacific Ocean on its eastern border to the Ural Mountains in the west. At the time of John, the region refers to the peninsula know as Asia Minor:

At the end of the first century the peninsula known as Asia Minor seems to have embraced six provinces, Asia, Bithynia (including Pontus), Galatia, Cappadocia, Cilicia, Lycia (including Pamphylia). The Province of Asia had been created as far back as the year B.C. 120 out of the domains bequeathed to the Senate by Attalus III., the last king of Pergamum. . . . "Asia in the New Testament," wrote Dr. Lightfoot in 1865, "is always Proconsular Asia."; and his dictum has not been seriously shaken by the researches of the last forty years.1

We would locate the churches today on a map of western Turkey.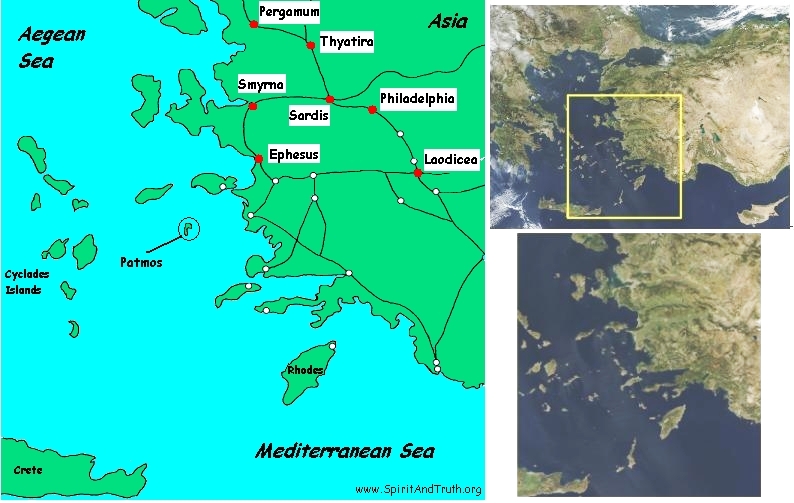 2

These churches were directly or indirectly the result of Paul's missionary journeys recorded in the book of Acts. Paul taught at Ephesus for over two years at the school of Tyrannus (Acts Acts 19:1, Acts 19:9-10; Acts 20:31) and his disciple Timothy was an elder there (1Ti. 1Ti. 1:3). It is probably for this reason, together with its prominence and location on the seacoast close to Patmos, that the first church John is told to address is at Ephesus (Rev. Rev. 1:11+; Rev. 2:1+).

The prominence of this church is reflected in its being the possible recipient of as many as eight NT books: the gospel of John, Ephesians, 1 and 2 Timothy, 1, 2, and 3 John, and Revelation. Besides, Paul was ministering in Ephesus at the time he wrote 1 Corinthians.3

One of the principles of Scripture is that those who have received the greater revelation have greater responsibility for correctly responding to what they have been shown. Peter mentions this principle: "For the time has come for judgment to begin at the house of God; and if it begins with us first, what will be the end of those who do not obey the gospel of God?" (1Pe. 1Pe. 4:17). This may explain why the letters to the churches which appear in Rev. Rev. 2:1+ and Rev. 3:1+ precede the portion of the book which describes God's "correction" of the non-believing (Rev. Rev. 6:1+ and beyond).
---
Notes
1 Henry Barclay Swete, The Apocalypse of St. John (Eugene, OR: Wipf and Stock Publishers, 1998, 1906), li-lii.
2 Photograph courtesy of NASA.
3 Robert L. Thomas, Revelation 1-7 (Chicago, IL: Moody Press, 1992), 130.