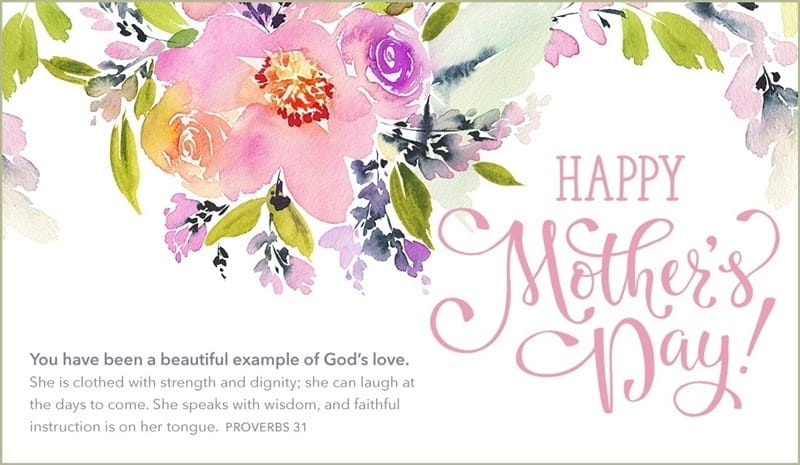 Mother's Day Bible Verses - Scripture Quotes to Thank Mom!
Celebrate Mother's Day with bible verses that are sure to invoke feelings of encouragement and inspiration for all moms! A mother's love reflects that of God - selfless, enduring, and unconditional. Many Scripture quotes can be used to uplift those females in your life who have shown your God's Love. God even tells us in the Bible that we will be rewarded for honoring our mothers!
Let these verses speak comfort into you and remind you how much your mother loves you. If you're missing your mom this Mother's Day, or this holiday is difficult for you for whatever reason - you are not alone. God understands and wants to help you find peace and healing.
There are many women in the Bible who are wonderful examples of a mother's sacrifice. Some of the passages below celebrate their lives and help lead the way for women of faith. Whether you want to encourage your biological mother, step mom, family friend, or a female who has helped inspire you toward who you are meant to be - these verses are a beautiful tribute and can be used to share on social media or in a handwritten card.
Enjoy these Mother's Day bible verses and Scripture about mom's love, sacrifice and hard work. Visit our sister sites for beautiful Mother's Day Quotes as well as a Prayers for Mother's Day whether a new mom, single mom, or waiting to be a mother.
A Mother's Day Prayer
Lord, on this day in which we honor mothers, may we love and cherish the special women who have born us, who have nurtured us, and who have prayed for our well-being. May our hearts overflow with gratitude to you, who formed and knitted each of us in a mother's womb. We pray you give each mom strength. We ask you to be the daily bread of tired mothers. May each mother find rest in you. Amen.
If you're looking for a meaningful mother's day gift, take a look at the Mother's Day Gift Ideas at Crosswalk.com - These are some of our favorite gifts, whether Christian-inspiring or practical, to remind mom of our love.
Watch and share this beautiful video: 3 Bible Verses to Show Mom How Much You Love Her!