If you were on a raft, adrift in the ocean, the cruelest irony of your predicament is that you could die of thirst while surrounded by an endless supply of water. If you drank the ocean water, you would actually become dehydrated.
Normally, there is a 0.9 percent salt concentration in your bloodstream. Ocean water, by contrast, contains about 3.5 percent dissolved salts. If you drink seawater, your body will react by pulling water out of your cells to flush the salt from your system, and that causes you to become dehydrated. Extreme dehydration damages organs, especially the brain, and quickly leads to death.
Our culture is like an ocean of salt water. We human beings are thirsty for purpose, meaning, self-acceptance, and a sense of belonging. We are surrounded by books, magazines, and TV shows with so-called experts promising us the answers we seek - but they are moral, spiritual, and cultural salt water. The more we drink from these experts, the thirstier we become. The very act of lapping up the values and answers of our culture leaves us even more thirsty and dissatisfied than before.
In John 7:38, Jesus tells us, "Whoever believes in me, as the Scripture has said, 'Out of his heart will flow rivers of living water.'?" Rivers of refreshing water will spring up and flow from the lives of all those who truly place their trust in Jesus. If you thirst for purpose, meaning, self-acceptance, and belonging - it's yours. It's freely available to you. Drink to your soul's content! Unlike the salt water of this dying culture, the fresh, clear water of God's love and forgiveness always satisfies.
Paul, in the opening lines of Ephesians, describes to us the rich and satisfying blessings that are instantly ours the moment we place our trust in Jesus:
Blessed be the God and Father of our Lord Jesus Christ, who has blessed us in Christ with every spiritual blessing in the heavenly places, even as he chose us in him before the foundation of the world, that we should be holy and blameless before him. In love he predestined us for adoption as sons through Jesus Christ, according to the purpose of his will, to the praise of his glorious grace, with which he has blessed us in the Beloved. In him we have redemption through his blood, the forgiveness of our trespasses, according to the riches of his grace, which he lavished upon us, in all wisdom and insight making known to us the mystery of his will, according to his purpose, which he set forth in Christ as a plan for the fullness of time, to unite all things in him, things in heaven and things on earth (Ephesians 1:3-10).
When we come to Christ, we instantly receive all of these spiritual blessings. We don't receive some of them or part of them or a promise that we will receive them in the future. We don't receive them conditionally or in stages or if we qualify. We immediately and fully have "every spiritual blessing in the heavenly places." We stand holy and blameless before God the Father. We are his adopted children. We instantly have redemption through the Lord's blood, and we are fully forgiven for our sins.
Why do we possess all of these blessings? Because of "the riches of his grace," which he has showered on us for no other reason than his extravagant love for us. The Creator of heaven and earth chose us, predestined us, and redeemed us. As we walk with him, he walks with us, comforting and blessing us, delivering and sustaining us.
In Ephesians 1, Paul invites us into the very throne room of God as he shows us the blessings God has stored up for us in his treasure house - blessings we already fully possess if we belong to Jesus Christ. If you are a Christian living in spiritual poverty right now, it's because you don't realize what is already yours in Christ. You have never discovered the contents of the heavenly treasure house.
That is Paul's reason for writing the letter to the Ephesians, and that is my reason for writing this book on Ephesians - to enable you to discover the spiritual blessings that are available to you right here, right now. Once you have seen the contents of God's treasure house, once you truly understand the blessings that are yours right now, your life will never be the same.
His Adopted Children
In our society, we sometimes hear people say, "He's just the adopted son of that couple. He's not their real child." In other words, people mistakenly put too much emphasis on biology and not enough on love. They dismiss the adopted child as a second-class child, whose status is somehow not as valid as that of the biological child. That is faulty and wrong thinking, and it's extremely hurtful to adoptive children. Ask any adoptive parent and he or she will tell you that adopted children are no less loved than biological children.
I know a man who is a father to nineteen children. "Fourteen of my children are adopted," he says, "but I forget which ones." And that's how God loves you and me. He has an only begotten Son, Jesus - and he has many, many adopted children. As Paul writes:
even as he chose us in him before the foundation of the world, that we should be holy and blameless before him. In love he predestined us for adoption as sons through Jesus Christ, according to the purpose of his will, to the praise of his glorious grace, with which he has blessed us in the Beloved (Ephesians 1:4-6).
Adoption is a beautiful picture of God's sovereign grace. The child did not choose the parents. The parents chose the child. That's how God has placed us into a relationship with himself. We did not choose him. He chose us.
An adoptive parent can give a child love, a nurturing home, and treatment that is fully equal to that given the biological children. An adoptive parent can even endow an adopted child with an inheritance. But when God adopts us, he gives us something no earthly adoptive parent can give a child: He gives us his very nature.
When God adopted us in Christ, he didn't merely bless us with love and care, forgiveness and grace, eternal life and an eternal inheritance. He imparted his very nature to us. When God adopts us, his act of adoption is a supernatural act. We take on the nature of Jesus. We become like him. We become what he is.
No, we do not instantly attain Christlike moral and spiritual perfection. But at the moment we place our trust in Christ, we become new creations. As Paul writes, "Therefore, if anyone is in Christ, he is a new creation. The old has passed away; behold, the new has come" (2 Corinthians 5:17). What is this new nature God gave us at the moment of our conversion? Paul writes: "For those whom he foreknew he also predestined to be conformed to the image of his Son, in order that he might be the firstborn among many brothers" (Romans 8:29).
Jesus is God's firstborn - and you and I are the Lord's brothers and sisters, the adopted children of God the Father.
---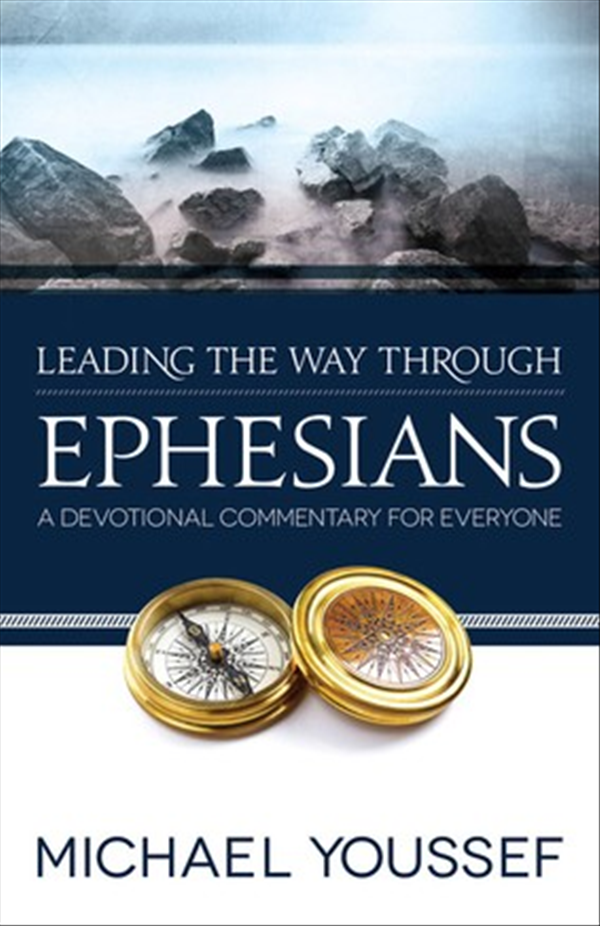 Taken from: Leading the Way Through Ephesians. Copyright © 2012 by Michael Youssef. Published by Harvest House Publishers, Eugene, Oregon. Used by Permission.
Throughout the book of Ephesians, Paul refers to "the riches of God's grace," "our riches in Christ," and "the riches of His glory" as he reminds believers of the spiritual treasures they already possess in Christ.