"… I am the Lord, who heals you" (Exodus 15:26).
Names are very important in the Bible. Parents would often choose a name for their new baby that described the circumstances surrounding the birth, or contained a blessing for the baby's life and destiny. Therefore, knowing the meaning of the names of people, places and things in Scripture can help us to understand them – and God's message to us through them – more clearly.
For instance, the name Jabez in the Bible means "pain."
"...his mother called his name Jabez, saying, 'Because I bare him with sorrow'" (1 Chronicles 4:9).
Either Jabez brought his mother great pain during childbirth, or at the time of his birth his parents were going through a tough time. Imagine the mocking that young Jabez received from other children with a name like that!
Another well-known example is Abraham and Sarah's miracle child, Isaac. Isaac's name means "laughter," because Sarah laughed when she overheard God tell her husband that she would have a baby in her old age... including presumably, all that would require!
"So Sarah laughed to herself as she thought, 'After I am worn out and my lord is old, will I now have this pleasure?'" (Genesis 18:12).
Years later, Isaac named one of his twin sons, Jacob, meaning "heel catcher" or "supplanter." Jacob was the second-born, but he was born grasping hold of the heel of Esau. As he grew older, the Bible records how Jacob deceived his brother of his birthright, and stole the blessing due the first-born son by deceiving his blind father Isaac.
Names were also used as a means of pronouncing specific blessings, or proclaiming a certain destiny over a child. So you have names in the Bible like:
Abraham, which means the "father of many nations," foreshadowing his destiny to become patriarch over three world religions and numerous people groups
Daniel, which means "God is my judge," foreshadowing his destiny to stand in defiance of ungodly rulers
Elisha, which means "God is my salvation," foreshadowing his destiny to receive miraculous deliverance from the hands of his enemies
Jesus, which means "Yahweh saves" which declares His destiny as God's anointed Messiah
But nothing is more important than understanding the names of God that He reveals to us in His Word.
"Because he has set his love upon Me, therefore I will deliver him; I will set him on high, because he has known My name" (Psalm 91:14).
Or as another version puts it:
"The Lord says, 'I will rescue those who love me. I will protect those who trust in my name'" (Psalm 91:14).
What an amazing thing to be delivered when you go through a challenge, set on high when life knocks you low, rescued when you're in danger, and protected from life's ills! According to the Bible you can experience all of that – if you know God's name, that is! And you get to know God's nature and character by understanding what His (various) names mean.
It's so important, that Jesus taught us to pray, "Our Father...Hallowed be Thy name."
It's so important that the Ten Commandments include: "You shall not take the name of the LORD your God in vain."
And, it's so important, that Jesus said, "If you ask Me anything in My name, I will do it" (John 14:14).
God, Our Healer
We live in a day where it seems like everyone finds themselves in need of healing at least some of the time, whether it's physical healing from a debilitating disease or broken bone, or emotional healing because of betrayal, a deception, a painful childhood memory or abuse. Whether it's spiritual healing because of a past mistake or sin that you've committed, or a wound picked up in some religious circle – the fact of the matter is, everyone needs healing some of the time.
But the good news is that we have a God whose name is Healing!
In Exodus 15, the newly set free Israelites are on their way to the Promised Land, singing God's praises and rejoicing at the miracle of the drowned Egyptian army – until they found themselves without water in the hot, dry desert of Shur, and their faith was put to the test.
They eventually find a watering hole in the desert and are excited, until they discover it is "bitter" – that is, not suitable for drinking. And instead of praying and believing God for His provision, they start complaining about their leader, Moses.
Why did you lead us here?
Look what you've done now!
We are going to die of thirst!
Typical behavior for most of us! But Moses prays, and God answers with another miracle – just throw a piece of wood into the water and the bitter water would be turned "sweet," or drinkable. Then God reveals Who He is in a greater way to the Israelites:
"He said, 'If you will listen carefully to the voice of the Lord your God and do what is right in his sight, obeying his commands and keeping all his decrees, then I will not make you suffer any of the diseases I sent on the Egyptians; for I am the Lord who heals you'" (Exodus 15:26).
In the midst of their bitterness, exhaustion, and hopelessness, God reveals Himself to them as not only Deliverer, but also Jehovah Rapha – their Healer.
This Hebrew word, Rapha, is used sixty times in the Old Testament, and it means to "restore, to heal, to cure and to repair." For example, in 1 Kings 18:30 says Elijah, "repaired (raphe) the altar of Jehovah." Meaning, he brought the altar back to its original state.
God calls Himself Jehovah Rapha, and He wants to restore, heal, cure and repair us too!
Jesus – God Manifest in Flesh
Jesus is the express image of our Father God. When He came to earth, He showed us what our Father is actually like.
"...how God anointed Jesus of Nazareth with the Holy Spirit and with power, who went about doing good and healing all who were oppressed by the devil, for God was with Him" (Acts 10:38).
To sum it up, Jesus had a traveling healing ministry! Wherever He went, He set people free and repaired their brokenness.
"The Spirit of the LORD is upon Me, Because He has anointed Me To preach the gospel to the poor; He has sent Me to heal the brokenhearted, to proclaim liberty to the captives and recovery of sight to the blind, to set at liberty those who are oppressed; to proclaim the acceptable year of the LORD" (Luke 4:18-19).
Our Father, Jehovah Rapha, sent His son Jesus to us to heal, save and set us free!
God Heals the Hard Things
"Lord, have mercy on my son, for he is an epileptic and suffers severely; for he often falls into the fire and often into the water. So I brought him to Your disciples, but they could not cure him" (Matthew 17:15-16).
Have you ever come up against a situation in life that's been labeled by the experts as a terminal, or "cannot-be-cured" situation?
The cancer which cannot be cured.
The marriage which cannot be restored.
The heartache which cannot be healed.
The wayward child who cannot be saved.
We have all experienced these challenges to our faith, which may leave us feeling as desperate, despondent and in despair like the Israelites in the desert of Shur.
But not only do we have the hindsight of God's faithfulness to provide for them, we also have the record of Jesus' ministry.
"Then Jesus answered and said, 'O faithless and perverse generation, how long shall I be with you? How long shall I bear with you? Bring him here to Me.' And Jesus rebuked the demon, and it came out of him; and the child was cured from that very hour" (Matthew 17:17-18).
This is wonderful news! When you face a "cannot-be-cured" situation in life and the people who you think can help say they can't, just remember...
"Behold, I am the LORD, the God of all flesh. Is there anything too hard for Me?" (Jeremiah 32:27).
Jehovah Rapha can heal even the hard things.
God Heals Our Physical Wounds
"Large crowds followed Jesus as he came down the mountainside. Suddenly, a man with leprosy approached him and knelt before him. 'Lord,' the man said, 'if you are willing, you can heal me and make me clean.' Jesus reached out and touched him. 'I am willing,' he said. 'Be healed!' And instantly the leprosy disappeared" (Matthew 8:1-3).
So many people have struggled with this issue, because of things said to them and situations that are just impossible with man. If that's you, if you have ever wondered if it was really God's will for you to be healed, then I've got good news for you! From the heart of Jehovah Rapha to the lips of Jesus, He says... "I want to."
God Heals Our Emotional Wounds
Some say that physical pain is nothing compared to emotional pain. For the woman in Mark 5, that was certainly true, and we know her as the woman with the issue of blood. She lived with her physical disease for twelve years, but her problem was much deeper than that. The Bible says she "suffered" because of it, meaning, emotionally. She was by law, an outcast from society, stigmatized, separated from husband and children, abused by doctors and abandoned in her time of need. Hers was a prolonged physical suffering that produced mental anguish. But she made it to Jesus, our Healer.
"When she heard about Jesus, she came behind Him in the crowd and touched His garment. For she said, 'If only I may touch His clothes, I shall be made well.' Immediately the fountain of her blood was dried up, and she felt in her body that she was healed of the affliction" (Mark 5:27-29).
Thereafter Jesus pronounced her healed, and immediately (and publicly) restored her to society! She placed her faith in the One who repairs AND restores, the One Who could do what no one else could do for her. Our God heals not just physically, but our emotions and relationships, too!
God Heals Our Spiritual Wounds
While physical and emotional healing is a wonderful blessing, the fact is, Jehovah Rapha is really most concerned about our spiritual health. Remember the paralytic in Mark 2, who was brought to Jesus by four faith-filled friends. These friends literally ripped the roof off the house to get this man to Jesus. And Jesus took note:
"When Jesus saw their faith, He said to the paralytic, 'Son, your sins are forgiven you'" (Mark 2:5).
Jesus responded to the faith of the man's friends. But He first gave the man what was needed most – spiritual healing – by instantly removing public condemnation and private shame. Every person who receives physical healing in this life still eventually dies; it is only a temporary blessing. But everyone whose sins are forgiven by God, though they also will physically die, go on living forever in His presence.
Thank God, whatever it is that has gone wrong in your life, no matter how impossible it may seem, He can handle it. He is the Great Jehovah Rapha, the Great Physician, the Lord that heals, saves and restores!
Related articles
5 Powerful Ways Jesus Still Heals Today
Prayers for Healing That Provide Strength and Comfort
15 Comforting Psalms for Healing to Pray and Encourage Loved Ones

Photo credit: ©Getty Images/Monkey Business Images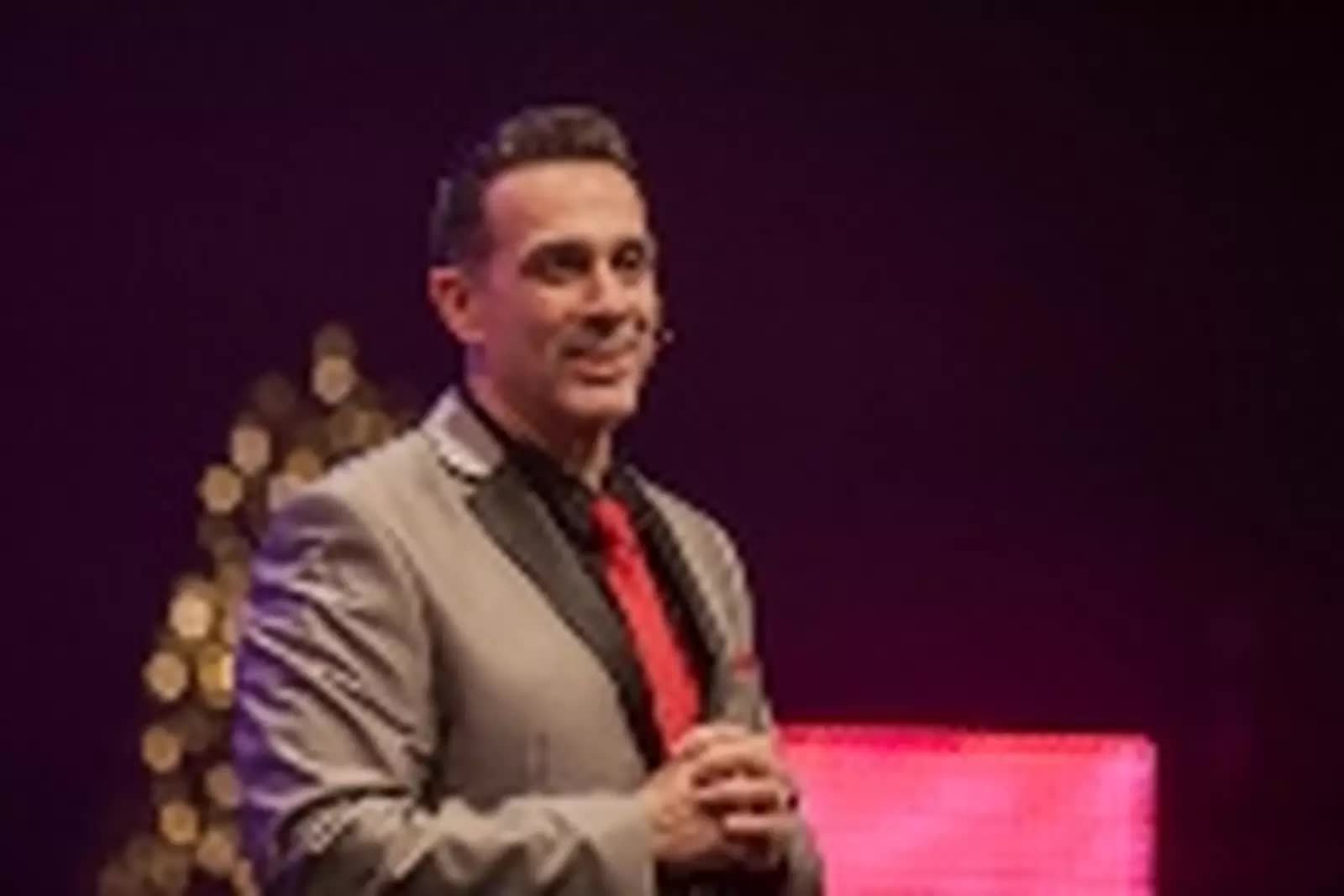 Frank Santora is Lead Pastor of Faith Church, a multi-site church with locations in Connecticut and New York. Pastor Frank hosts a weekly television show, "Destined to Win," which airs weekly on the Hillsong Channel and TBN. He has authored thirteen books, including the most recent, Modern Day Psalms and Good Good Father. To learn more about Pastor Frank and this ministry, please visit www.franksantora.cc. Photo by Michele Roman.