war


Πόλεμος

[

Polemos

] : "Opposite . . . peace; as a single engagement battle, fight."1

Michael and his angels
Michael is one of the

"chief princes"

who aided the heavenly messenger of Daniel against the prince of Persia and Greece (Dan. Dan. 10:13, Dan. 10:21). Daniel is told that Michael is

"your prince"

(Dan. Dan. 10:21), and "The great prince who stands watch over the sons of your people" (Dan. Dan. 12:1). Thus, he is uniquely associated with the protection of the Jewish people.2 It is during the time of Jacob's trouble, when

"there shall be a time of trouble, such as never was since there was a [Jewish] nation"

that

"shall stand up"

to protect Israel (Dan. Dan. 12:1-2). Jude informs us that Michael is an

"archangel"

and his connection with Israel is also reflected in the fact that he

"disputed about the body of Moses"

with the devil (Jude Jude 1:9).

fought with the dragon
"With what weapons and tactics this heavenly warfare will be waged is beyond our understanding. Angels cannot be injured or slain with earthly weapons, and such physical forces as we know about are not able to move spiritual beings. But these beings do operate in a physical universe, so there must exist powerful physico-spiritual energies of which we yet can have only vague intimations, . . . It is with such energies and powers that this heavenly battle will be waged."3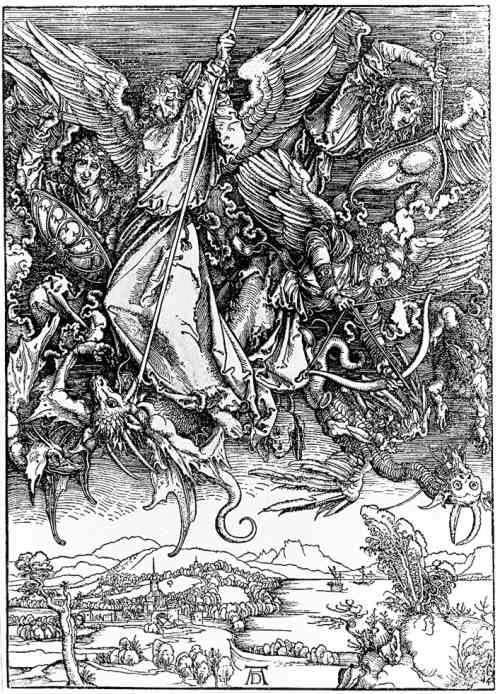 4

dragon and his angels
This refers to

"a third of the stars of heaven"

which were thrown to the earth by the tail of the dragon (Rev. Rev. 12:4+). See Commentary on Revelation 12:4. Their eventual destiny is the Lake of Fire, which was specially prepared for them (Mtt. Mat. 25:41; Rev. Rev. 20:10+). Some are confined, reserved for judgment (see commentary on Revelation 9:1). The dragon's angels are organized by rank.

Put on the whole armor of God, that you may be able to stand against the wiles of the devil. For we do not wrestle against flesh and blood, but against principalities, against powers, against the rulers of the darkness of this age, against spiritual hosts of wickedness in the heavenly places. (Eph Eph. 6:11-12) [emphasis added]

Perhaps one of the more powerful ones is the angel of the bottomless pit (Rev. Rev. 9:11+). An angel which spoke with Daniel fought against high-ranking angels on his way to Daniel (Dan. Dan. 10:13, Dan. 10:20-21). The existence and influence of these malevolent spiritual beings is a well-established theme of Scripture. This is why it is so important for believers to have a grasp of what Scripture reveals concerning the world which we live in. For there are forces and objectives at work that underlie the physical realm which the instrumentation of science is entirely unable to reveal. They are at work in the non-physical realm where science is blind. Yet we see their results in the workings of sin, reigns of terror, and the machinations of powerful nations and corporations through history.

The movements of nations, their wars, their politics, and social policy, are shaped and directed by higher powers. There are angels, good and bad, who are constantly influencing men and governments, and of this [Daniel Dan. 10:1] is a conspicuous example. Wars and strife on earth are the reflex of opposing spiritual powers in the lower heavens.5

No more so than in the plight of the Jews and the illogical conditions which attend the disfavor they suffer by the majority of the world's nations. And this is exactly one of the goals of this chapter—God is revealing to us the true nature of anti-Semitism. Although the world is full of destructive biases and half-truths, none is as malignant nor hell-bent as Satan's desire to destroy the woman of Revelation Rev. 12:1+. As significant as his angels are in terms of powers which influence and manipulate the world, these ranks of fallen angels are not of primary concern for the believer

"because He who is in you is greater than he who is in the world"

(1Jn. 1Jn. 4:4).

"For I am persuaded that neither death nor life, nor angels nor principalities nor powers, nor things present nor things to come, nor height nor depth, nor any other created thing, shall be able to separate us from the love of God which is in Christ Jesus our Lord."

(Rom. Rom. 8:38-39).
---
Notes
1 Timothy Friberg, Barbara Friberg, and Neva F. Miller, Analytical Lexicon of the Greek New Testament (Grand Rapids, MI: Baker Books, 2000), 321.
2 Although Scripture does not say, perhaps it was Michael who protected Daniel while in the lion's den (Dan. Dan. 6:22)?
3 Henry Morris, The Revelation Record (Wheaton, IL: Tyndale House Publishers, 1983), Rev. 12:8.
4 Albrecht Durer (1471 - 1528). Image courtesy of the Connecticut College Wetmore Print Collection.
5 Walter Scott, Exposition of The Revelation (London, England: Pickering & Inglis, n.d.), Rev. 12:7.