the angel
See the discussion concerning the identity of the angel at Revelation 1:20.

church in Philadelphia
See commentary on Seven Churches of Asia. Philadelphia was built by Attalus Philadelphus, king of Pergamum (died 138 BC) from which it derives its name.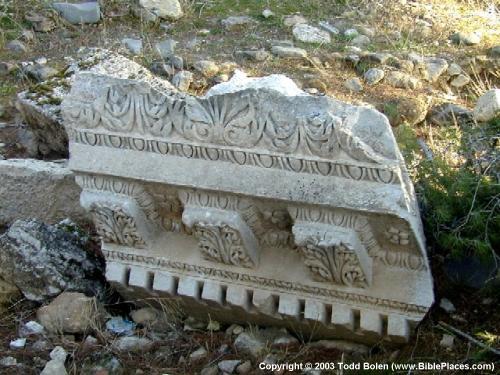 1

Philadelphia is twenty-seven miles E.S.E. from Sardis 2 and suffered frequent earthquakes, one of which nearly destroyed it during the reign of Tiberius Philadelphia.

Philadelphia, so called from its founder, Attalus Philadelphus, still exists in the town called Allah-shear, "the city of God." . . . The number of houses is said to be about 3000, of which 250 are Greek, the rest Turkish; and the Christians have twenty-five places of worship, five of them large and regular churches, a resident bishop, and twenty inferior clergy.3


He who is holy,
Here again we see the deity of Christ (and the Trinity) in the application of a title by the Son which is uniquely the Father's. This title is applied to

יהוה

[

yhwh

] in the OT (Isa. Isa. 6:3; Isa. 40:25; Isa. 43:15). The holiness of Jesus is a reflection of his identification with the Father in the Godhood. "I and My Father are one" (John John 10:30). "

Hagios

characterizes Jesus, not so much as the sinless one, but as one especially set apart, belonging exclusively to God."4 There is only one who is holy, an attribute required as the perfect sacrifice (Isa. Isa. 53:4-11; Heb. Heb. 10:14). No other man could bear the sins of other men since they could not even bear their own sin (Heb. Heb. 7:27). He is holy not only in the sense of being perfect and without sin (Isa. Isa. 53:9; John John 8:46; John 14:30; 2Cor. 2Cor. 5:21; Heb. Heb. 4:15; Heb. 7:26; Heb. 9:14; 1Pe. 1Pe. 1:19; 1Pe. 2:22; 1Jn. 1Jn. 3:5), but because of his uniqueness and separateness—there is none other like Him.

"And you shall be holy to Me, for I the Lord am holy, and have separated you from the peoples, that you should be Mine"

(Lev. Lev. 20:26). His name is "Holy" (Isa. Isa. 57:15) and he is righteous in all His ways (Ps. Ps. 145:17). He is the

"Holy One"

Who the Father had promised would not be allowed to see corruption (Ps. Ps. 16:10) and thus would be raised from the dead. The holiness of God is the subject of great angelic praise throughout Scripture (Isa. Isa. 6:3; Rev. Rev. 4:8+). All those in the spiritual realm, even the demons, recognize this attribute of Christ (Mark Mark 1:24). Yet, this truth was sadly lacking on earth where the

"Holy One"

was denied by unholy men who asked for a murderer in His place (Acts Acts 3:14; Acts 4:27).

He who is true
Another attribute of the Trinity: God cannot lie (Num. Num. 23:19; Rom. Rom. 3:4; Heb. Heb. 6:18; Tit. Tit. 1:2). Jesus tells the Laodiceans that His witness is faithful and true (Rev. Rev. 3:14+)—what He says is undeniable in its accuracy. This is why it is He who will judge and avenge the blood of the martyrs (Rev. Rev. 6:10+; Rev. 19:11+). Because He Himself is true, His

"words will by no means pass away"

(Mtt. Mat. 24:35).

key of David
The key indicates the governmental authority of David.5 He is the promised king Who will rule from the throne of David (2S. 2S. 7:13-17; Ps. Ps. 89:4, Ps. 89:28; Isa. Isa. 9:7; Isa. 16:5; Jer. Jer. 23:5; Jer. 33:15; Amos Amos 9:11; Zec. Zec. 6:13; Mtt. Mat. 19:28; Mat. 25:31; Luke Luke 1:32; Acts Acts 2:30). Jacob prophesied that a ruler would arise from the tribe of Judah (Gen. Gen. 49:10). Isaiah prophesied of a coming child with an eternal kingdom that would rule from David's throne (Isa. Isa. 9:6-7). Gabriel repeated this promise to Mary at the annunciation:

"He will be great, and will be called the Son of the Highest; and the Lord God will give Him the throne of His father David"

(Luke Luke 1:32). The key of David was laid on the shoulder of Eliakim who acted as prime minister and who determined who would be allowed to see King Hezekiah. He also would make decisions only the king could overthrow. His was a position of great authority and trust:

Then it shall be in that Day, that I will call My servant Eliakim the son of Hilkiah; I will clothe him with your robe and strengthen him with your belt; I will commit your responsibility into his hand. He shall be a father to the inhabitants of Jerusalem and to the house of Judah. The key of the house of David I will lay on his shoulder; so he shall open, and no one shall shut; and he shall shut, and no one shall open. I will fasten him as a peg in a secure place, and he will become a glorious throne to his father's house. (Isa. Isa. 22:20-23)

This key was properly handled by the king (Rev. Rev. 3:7+), and therefore by the "house-mayor" only in his stead. The power of the keys consisted not only in the supervision of the royal chambers, but also in the decision who was and who was not to be received into the king's service. There is a resemblance, therefore, to the giving of the keys of the kingdom of heaven to Peter under the New Testament. But there the "binding" and "loosing" introduce another figure, though one similar in sense; whereas here, in the "opening" and "shutting," the figure of the key is retained.6

The key being laid on his shoulder speaks of committing responsibility into his hand and alludes to Isaiah's prophecy of the ultimate Davidic ruler:

For unto us a Child is born, unto us a Son is given; And the government will be upon His shoulder. And His name will be called Wonderful, Counselor, Mighty God, Everlasting Father, Prince of Peace. Of the increase of His government and peace There will be no end, upon the throne of David and over His kingdom, to order it and establish it with judgment and justice from that time forward, even forever. The zeal of the LORD of hosts will perform this. (Isa. Isa. 9:6-7) [emphasis added]

Being both God and man, in the line of David (Mtt. Mat. 1:1, Mat. 1:6; Luke Luke 3:31), Christ alone has the authority to open the scroll initiating the judgments which usher in the Davidic kingdom upon the earth.

"But one of the elders said to me, 'Do not weep. Behold, the Lion of the tribe of Judah, the Root of David, has prevailed to open the scroll and to loose its seven seals.' "

(Rev. Rev. 5:5+). Some interpreters see these keys as being identical with the keys of the kingdom of heaven (Mtt. Mat. 16:19; Heb. Heb. 3:6).7 Peter was given the keys to the kingdom and was personally present when each of the 3 person groups (Jews, Samaritans, and Gentiles: Acts Acts 1:8) first received the Holy Spirit.8 Jesus chastised the scribes and Pharisees,

"But woe to you, scribes and Pharisees, hypocrites! For you shut up the kingdom of heaven against men; for you neither go in yourselves, nor do you allow those who are entering to go in"

(Mtt. Mat. 23:13). Instead, authority to enter the kingdom of heaven was entrusted to a simple fisherman (Mtt. Mat. 16:19). The authority of heaven stands behind the Spirit-led decisions of the church (Mtt. Mat. 18:18; John John 20:23). Concerning the keys of Hades and Death, see commentary on Revelation 1:18.

He who opens and no one shuts


ὁ ἀνοιγων καὶ οὐδὲς κλείσει

[

ho anoigōn kai oudes kleisei

] :

"the one presently opening and no one shall shut"

. He is actively holding open the door such that no one else can shut it.

shuts and no one opens


κλείων καὶ οὐδεὶς ἀνοίγει

[

kleiōn kai oudeis anoigei

] :

"while presently shutting and no one is presently opening"

. He is actively shutting things which are to remain shut. Men must respond while the door is held open by God for once it is shut, there is no recourse for entry:

And while they went to buy, the bridegroom came, and those who were ready went in with him to the wedding; and the door was shut. (Mtt. Mat. 25:10)

When once the Master of the house has risen up and shut the door, and you begin to stand outside and knock at the door, saying, 'Lord, Lord, open for us,' and He will answer and say to you, 'I do not know you, where you are from.' (Luke Luke 13:25)
---
Notes
1 Copyright © 2003 www.BiblePlaces.com. This image appears by special permission and may not be duplicated for use in derivative works. Architrave: The lowermost part of an entablature in classical architecture that rests directly on top of a column. Also called epistyle.
2 Jerome Smith, The New Treasury of Scripture Knowledge (Nashville, TN: Thomas Nelson Publishers, 1992), Rev. 3:7.
3 Ibid.
4 Robert L. Thomas, Revelation 1-7 (Chicago, IL: Moody Press, 1992), 273.
5 "By Metonymy of the Adjunct, whereby the sign is put for the thing signified, 'key' is put for governmental authority, of which it is the sign."—Smith, The New Treasury of Scripture Knowledge, Rev. 3:7.
6 Carl Friedrich Keil and Franz Delitzsch, Commentary on the Old Testament (Peabody, MA: Hendrickson, 2002), 7:262.
7 Richard Chenevix Trench, Commentary on the Epistles to the Seven Churches in Asia (Eugene, OR: Wipf and Stock Publishers, 1861).
8 Although Paul is commissioned as the apostle to the Gentiles in Acts Acts 9:1-43, it is Peter who first takes the gospel to the Gentiles in Acts Acts 10:1-48. Why? Because it is Peter who has the keys to the kingdom.