Praising God and praying His will for your husband is guaranteed to be your most rewarding work as his wife. With these five powerful prayers for your husband, you will be arming your marriage with God's Word and investing in his role as your spiritual leader.
Pray for your husband with a love for God and faith in His grace and mercy. "If you abide in me, and my words abide in you, ask whatever you wish, and it will be done for you." (John 15:7)
A Prayer For My Husband's Satisfaction in God Alone
I praise You, the God of all wisdom for husbands. Thank You, God, for knowing the longings of my husband's heart far better than I do. You know why he hungers for ______ and ______. You know how these yearnings affect his decisions and how those decisions affect our marriage.
You are the God who satisfies the longing soul. You fill the hungry soul with good things. Here is _____'s heart and soul, Lord. I lift my husband up to You and ask You to fill him with the good You know He needs (Psalm 107:9; Matthew 6:8).
The world offers _____ so many things to temporarily satisfy his needs. Temptations abound, but You are his shield and his defender. Please train him to resist the devil (Psalm 28:7; Psalm 59:9; James 4:7).
I celebrate that You triumph over every one of Satan's schemes and the scars he has left on my husband's heart. You are Jehovah Rapha, _____'s Healer. You are the restorer of his soul. Let the balm of Your perfect love and mercy touch the brokenness of his heart (Genesis 50:20; Exodus 15:26; Psalm 23:3; Jeremiah 17:14).
You joined Shadrach, Meshach, and Abednego in the fiery furnace, and when they came out unharmed, they didn't even smell like smoke. Use their courage to inspire my husband to fear You only. I trust You to give him rest and satisfaction while protecting him from harm (Daniel 3:8–30; Proverbs 19:23).
Prayer for My Husband to Be Man of Your Word
Father, Your Word amazes me. The world is looking for the next "perfect" solution to their problems, and You are always offering it through Your Word. You sent Your Word to deliver, nourish, and counsel us. My heart's desire is for my husband to feast on Your Word and find It immensely satisfying (Psalm 107:20; Proverbs 3:8; Psalm 119:24; 103).
With Your Word as His source of wisdom, I will rest secure in his leadership of our home. I trust Your Word to fill ____ with the insight he will need for our relationship, his work, and so much more (Ephesians 1:8,17; James 1:5).
Your Word will unite his heart to Yours. My husband's oneness with You will lead his pursuit of oneness with me. Your ways will become His ways. Your faithfulness to me will become His faithfulness to me (1 Corinthians 6:17; Mark 10:8; Galatians 5:23).
I pray that you will send my husband an abundance of confidants whose faith in You is bold and courageous. Let them be men who do not lean on their own understanding, but always acknowledge You and Your Word (Psalm 119:63; Proverbs 28:1; 3:5–6).
A Prayer for His Humility and Courage
Thank You, Father for the gift of Jesus and His perfect example of humility. Jesus displayed His love for us with great humility and submissiveness to You. He denied Himself the comforts of heaven to save us. He chose to experience temptations, mockery, rejection, and even death. He rated our needs higher than His own.
You require my husband to love me as Christ loved the church. With great love for ____, I'm asking You to empower him to do this (Ephesians 5:25).
You know the pressure my husband feels to be successful and strong. You know how he is influenced to be self-reliant. You understand his fears and insecurities. He is simply human and at risk of denying his need for You, God. I do not want to see him destroy his life or our marriage because of pride (Proverbs 18:12).
I bring ____ to You in prayer, the river of life, and ask You to anoint my husband with a supernatural portion of Christ's humility. With it he will be a ready recipient of Your grace. He will be free to boast about his weaknesses to You and wait for You to satisfy his needs with Your strength (Psalm 36:8; James 4:6; 2 Corinthians 11:30, 12:9–10).
You've promised that humility is rewarded with riches, honor, and life. Those are gifts I want for my husband, Lord. Help him to let go of any pride and false humility so that he can enjoy the abundant life Jesus died to give him (Proverbs 22:4; John 10:10).
Your Praise on His Lips
There is no one who compares to You, Lord. You are worthy of our spellbound attention (1 Samuel 2:2; Psalm 16:8).
Give my husband eyes to see that You deserve the highest praise. Let him personally experience Your grandeur and strength. Let him live with great conviction that Jesus has authority over all things on earth and in the spiritual realm (Psalm 145:3; Ephesians 1:22).
You inhabit the praises of Your people, and I want my husband to enjoy the comfort and power of Your presence every moment. So, Father, please grant him an irrevocable gift of praising You. Let Your Spirit continually offer up a sacrifice of praise through _____ so that his lips always acknowledge Your name (Psalm 22:3; Philippians 2:10; Hebrews 13:15)
Teach him to praise You in his lowest moments. Train him to exalt Your name during the trials and before the victories. Let his faith in You lead him courageously into our own promised land despite the ominous giants of fear and doubt. Use the psalmists to mentor him in lifting His head to praise Your faithfulness despite his present burdens (1 Corinthians 15:57; 2 Chronicles 20; Numbers 13–14; Psalm 43:5).
A Prayer to Transform His Wife
You have promised _____ that a wife is a good gift from you. I want to be an excellent wife to my husband, one who consistently brings him honor (Proverbs 18:22, 12:4).
You know every one of my weaknesses and how they are impacting my role as ____'s helpmate. Lead me, Lord, to recognize the ungodliness hiding in my will, my expectations, and how I express my emotions. I want to surrender them to You for healing. Show me where I am investing my attention in things that will deteriorate my relationship with _____ (2 Corinthians 12:9–10; Luke 12:2; 2 Corinthians 4:18; Ephesians 1:8,17).
Let the power of Your Word transform my motives. Coach me relentlessly to be a wife who respects her husband in word and deed. Cause Your tenderness, gentleness, kindness, and humility to become my own (Romans 12:2; Ephesians 5:22–24; Colossians 3:12).
I want to be a content wife who does not harass my husband with quarrels and fretfulness. Please use me to create a peaceful home for him. Use me to encourage him, bear his burdens, and reflect Your extravagant love for him (Hebrews 13:5; Philippians 4:11–12; 2 Thessalonians 3:16; 1 Thessalonians 5:11; Galatians 6:2; Ephesians 3:18–19).
May our souls feast on only on You (Psalm 63:5).
I pray these things with complete confidence in Jesus and Your Spirit at work in our marriage. Amen.
Download your own personal PDF copy of these beautiful prayers for your husband HERE.
Print these to keep by your bedside, in the car, or at work to remind yourself of the power of praying over your husband and marriage.
Bonus: Prayer for When Your Husband Feels Like Your Enemy
O God, you are my defender and protector and today I cry out to You because my husband feels like my enemy (Psalm. 59:1).
There is no end to the betrayal I feel. My husband's words feel like daggers in my heart. This is the man who promised to cherish me. This is the man I promised to honor. How can this be?
He relentlessly pushes me away with his tone of voice, his posture, and his words. He slays me with his sarcasm, ridicule, slander, and lies. Day and night he speaks to me and about me harshly, and other times he doesn't speak to me at all (Psalm 59:7).
You know my husband's heart inside and out (Psalm 139:2–4). You have authority over the evil one that is instigating this division between us (Philippians 2:9–10).
Rise up, O Lord, and help us. Rise up against this evil at work in our marriage. Shield my breaking heart from this unbelievable attack (Psalm 59:4; Proverbs 30:5).
I am so angry at him, Lord. I am so angry that this is our reality. How could this happen to me, to us? Help me deal with this anger and not sin against you (Ephesians 4:26).
In obedience to You, I forgive my husband. I choose to forgive because I know that I am not free from sin, and I need Your forgiveness. I trust Your Word. You promise that righteousness produces peace and a quiet life. I desperately want this peace, Lord. Empower me to keep forgiving _____ and to faithfully confess my own sin to You (Matthew 6:15; Isaiah 32:17; 1 John 1:9).
You are a merciful God, and I plead with You to be merciful to my husband. You offered Jesus as a perfect blood sacrifice so that ______ and I could both receive Your undeserved favor. Neither of us deserve Your help, but I am so thankful that You are our river of life, our portion, and the source of all we need (Romans 3:25–26; John 7:38; Isaiah 55:1; Psalm 73:26; Philippians 4:19).
Please deliver my husband from the grip of the evil one. _____ is buried alive in his sin. He has been captured and made to believe I am his enemy (Matthew 6:13).
But the enemy of his soul is no match for You. He is not all knowing, all-powerful, and ever-present, but You are! He is not Lord over the heavens, the earth, and things under the earth, but You are. He is a wicked one that runs when no one is chasing him (Colossians 1:16–18; 1 John 3:20; Proverbs 15:3; Philippians 2:10; Proverbs 28:1).
You said, "It is finished," and I believe You. I believe You are the banner of love and victory over all. In the name of Jesus, I place ____ and me under Your authority. Let Your will be done in our marriage, Lord (John 19:30; Song of Solomon 2:4; Psalm 20:5; Matthew 6:10).
I believe You are fighting for us in the spiritual realm. I believe You are moving heaven and earth to save us from the temptations and schemes of destruction at work in our marriage. I will wait on You, and I will believe. Please help my unbelief (Exodus 14:14, 15:3; John 10:10; Mark 9:24).
While I wait, I will sing of Your mighty strength and power. I will sing of Your mercy and loving-kindness day and night. You are my ultimate defense and place of refuge. You have been victorious through the generations to all who call on You in faith. I expect to see the victory in our marriage because You are my hiding place and I put all of my trust in You (Psalm 59:10, 100:5). My heart cry remains, Jesus is Lord over my marriage and my husband (Romans 10:9).
Find More Prayers Here: A Biblical Guide for Praying over Your Marriage
---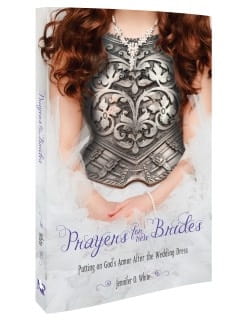 Jennifer O. White is the author of Prayers for New Brides: Putting on God's Armor After the Wedding Dress and Marriage Armor for the #PrayingBride. Jennifer is a natural encourager who offers hope from the truths of God's Word at her blog, Prayerfully Speaking. With every blog post, Jennifer is exalting the one true God who can empower us to do more than we can ask or imagine.
Photo credit: ©Getty Images/Predrag Images
---
Ready to see your marriage transformed? Join the 30 Day Prayer Challenge for Your Husband! Each day you will spend a short time praying a very specific prayer need over your husband and you will begin to see how prayer changes lives!
Your words have power in your husband's life to transform his attitude and spirit. Use these words of encouragement to speak life into your marriage and home - 44 Words of Encouragement and Affirmation for Men.