"Consider my affliction and my trouble, and forgive all my sins" (Psalm 25:18). Commenting on this verse, Augustine writes, "Forgive all my sins, not those only of youth and my ignorance before I believed, but those also which, living now by faith, I commit through infirmity, or the darkness of this life."
Often, when we are wronged, to look toward another's heart to consider the causes for harmful behavior is helpful. We might ask, "What sickness of the soul or darkness of the world has caused the precious soul of another individual to become compromised and sin against me?"
Perhaps we never come to know the inner details of others' hearts. Yet, to consider brings compassion. A heart of understanding can arise in me when I reflect in this manner because I have done similarly as those who have hurt me. The afflictions and troubles in my life have caused me to welcome sin into my heart—shuffled in while huddled beside the companion of pain.
The psalmist says: "guard my soul, and deliver me!" (Psalm 25:20). Keep me from welcoming sin! Let me repent of sins, have healing from inner pains, and not cause troubling situations! And, let me be guarded from the afflictions outside of me: "let not my enemies exult over me!" (Psalm 25:3). Sin of all kinds destroys; the psalmist promotes "integrity and uprightness" (Psalm 25:21) as the means by which the soul can be guarded and delivered from destruction. Seek the truth. Pursue honesty. Stop feeding lies. We can walk in the path of this integrity and uprightness.
Even if inner affliction and pain are great, we have the option to pursue what is right. We are not exempt from needing to call our sins ours, even when the sins spring from grounds of hurt and pain—even if the sins come from the darkness of this life that we could not have prevented. The psalmist calls his sin his, and too, he calls the sins of his enemies theirs: "consider how many are my foes, and with what violent hatred they hate me" (Psalm 25:19). Honesty about the responsibility for sins is part of the way of uprightness.
And integrity seeks to discover personal sins that hide underneath the troubles of our lives. To look beneath our affliction and troubles requires the desire to do what is right—to face what is true about ourselves when what we see is repulsive, revealing of further pain far easier to avoid, and/or requiring of help outside of ourselves to understand.
Some of my most consequential sins have been brought into my life through the dank backdoor of pain that was beyond my control. Yet, uprightness was indeed an option before me—an option even reaching toward me through offers of help from others. God is faithful. Yet, I neglected aid, thinking myself strong where I was weak.
Unaddressed sins permeate life; the sins of youth become the sins of this day—until we meet the Lord in them. Good and upright is the Lord, we can meet Him and be instructed. He leads us out of entwining lies to Himself.
He humbles us and teaches us His ways. His hand of understanding comes—helping us distinguish between interrelated sins and pains such that we know where to apply repentance and where to apply comfort. And His hand of guidance comes, teaching us to seek—despite our bumbling missteps—the way of integrity and uprightness.
Uprightness cries to God for protection and help: "I lift up my soul" (Psalm 25:3). Uprightness yearns for truth where lies of the evil one have been uttered by us and feeding on us: "Lead me in your truth and teach me" (Psalm 25:5). Uprightness asks for forgiveness according to God's goodness and all to His credit (Psalm 25:7). Protection and help, understanding and truth, forgiveness—these are the psalmist's responses to affliction, trouble, and sin.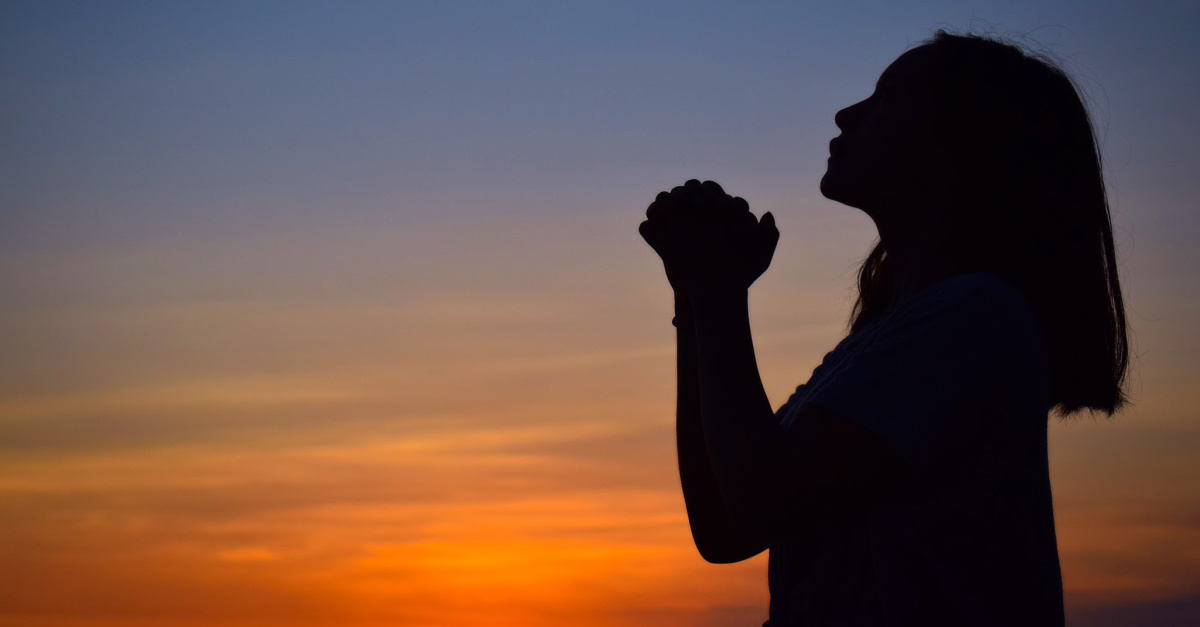 Photo credit:©Getty Images/Made Suta/EyeEm
Only the Lord can rescue us from our troubles. For, only He can pluck our feet out of the net. His truths delivered to our hearts speak the way we should go. Counterintuitively, when our feet are caught, we are not to look down at them but up to Him (Psalm 25:15). We look to the God of steadfast love and faithfulness who keeps His people (Psalm 25:10)—pulling us in with love while tending to our sins as a gentle friend so that we can walk in newness of truth and life.
The Bible certainly teaches against identifying sin as the certain, direct cause of every trial. To make such assumptions incorrectly can be damaging to a soul. Yet, God seemingly does often pursue the purity of our hearts through the afflictions of our souls. We might pray for trouble to be removed from our lives. But, in applicable cases, praise God that He does not remove the trouble of our lives until we understand the underlying sin(s) from which it comes.
Affliction churns, trouble arises, and sin remains—when these are true of us, we do well to question, "What path of integrity have I yet to pursue?" The psalmist praises God for instruction that changes the direction of his feet. He praises God for correction. May we shudder at the reverse: at any thought of wanting His peace without His instruction, of throwing ourselves onto His mercy without seeking His truth.
No. Instead, we look up with feet caught to God. And His rescue is full, complete, and good. Those whose guilt has been oh so great (Psalm 25:11) can know the friendship of the Lord (Psalm 25:14) and have souls that abide in well-being (Psalm 25:13). His welcome is sure; He does not refuse us Himself or the peace of a life that resides nearer to Him.
Psalm 25:16 speaks of an entry point I have found to the path of integrity: "Turn to me and be gracious to me, for I am lonely and afflicted." Think of God's goodness to accept that prayer! And think: can't we all offer it—can't anyone at all? I have troubles in my soul, and I am lonely of heart—God would you turn to me and be gracious to me? The basis for our request is simply personal need, and the path on which He stands ready to take us is the truth.
He is a very kind Teacher, sending protection, help, understanding, and the truth in those measures at which we can receive it. He forgives, over and over. The humble have no reason to be afraid to come to God.
So, for the one who has affliction and trouble with a path of integrity beckoning you, do not wait or duck. Do not think your hurt heart is outside the applicability of your Creator's love. Do not neglect the help of others to guide you along the good path. Do not think pain excuses the sin or makes the path of uprightness irrelevant or unneedful. Do not insulate yourself with pride—for, not the prideful, but the humble, are taught His ways, have His friendship, and dwell in well-being. Do not be afraid to come near the God who will be gracious with you.
Correction can bear an unpleasantness. Yet, receive it and you too will praise Him for it—like the psalmist. Wait to pursue the way of integrity and you will have a path containing compromise of the truth with which to contend. But step into the path of integrity and wait for Him there for each next step. Even as you contend with the sins of your soul and the sins of others against you, wait on the Lord for uprightness, and you will not be put to shame (Psalm 25:3). His correction is our good; God is willing to be faithful and loving toward us through the instruction of sinners in the way.
Schaff, Philip, ed. Saint Augustin: Expositions on the Book of Psalms. Vol. 8. A Select Library of the Nicene and Post-Nicene Fathers of the Christian Church, First Series. New York: Christian Literature Company, 1888.
More from this author
What Makes the Christian's Burden Light?
How God Strengthens the Human Heart
Why Must We Fix Our Eyes on the Lord?

Photo credit: Unsplash/Luis Alberto Sanchez Terrones
Lianna Davis is author of Keeping the Faith: A Study in Jude and Made for a Different Land: Eternal Hope for Baby Loss. She and her husband, Tyler, live outside of Dallas, Texas and have two dear daughters.