Joy. We all want it, but it sure does seem like some people get extra doses and others are left on the grouchy list just waiting for their big breakthrough. When life is filled with discouragement and tough times, it makes it even more difficult. When we look at the Bible and find joy, it's often seated with suffering, sorrow, or trials of some kind. We see Paul in prison singing his way through. We see Daniel in the heat of the moment praying his way through morning, noon, and night.
"Count it all joy, my brothers, when you meet trials of various kinds..." James 1:2 ESV
How can we count joy like James speaks of even in trials and temptation? Is it really even possible? The Bible gives us a good idea of the answer, and I want to share some of the verses that give us a reason and way to count joy no matter what we are going through.
1. Count It All Joy When You Breathe
"Thus says God, the Lord, who created the heavens and stretched them out, who spread out the earth and what comes from it, who gives breath to the people on it and spirit to those who walk in it" (Isaiah 42:5).
Remember where your breath comes from. There is no life without God first giving it. When we take a step back even in the face of difficult circumstances, we still have the gift of breath. It's a gift to inhale and exhale.
Counting joy may seem difficult when you are facing struggles that literally take your breath away. But after the tears are dried up for the day and you rest your head on your pillow, your body does the work for you of breathing in and out. God designed us to continue breathing even when we aren't aware of it. And for that, I can claim joy for the breath God gives day by day.
2. Count It All Joy When You Speak
"Now therefore go, and I will be with your mouth and teach you what you shall speak" (Exodus 4:12).
Moses struggled just like we do with not knowing what to say. This was true before he even had to go and do as God commanded. But God promised to give Him words and He did. We have the same opportunity today to receive the blessing of the words God wants us to speak.
Our words are so powerful. Our voices matter. The words we say leave marks and last in hearts longer than the moment they are spoken. Joy and words can walk together when we are in tune with the Lord. When we aren't, there's harshness, pain, and strife. Your voice is a gift. Praise God for the voice you have even when you don't know what to say. Let God give you words. Those words will bring joy to both yourself and the listener.
3. Count It All Joy When You See
"I will lift up mine eyes unto the hills, from whence cometh my help" (Psalm 121:1).
Just as we can count joy by our breath and words, we can count joy by sight. The things we see each day and the people we pass can impact us greatly when we are aware of them. It's choosing to see the sunrise and set. It's noticing the little ways God shows up for you. It's being aware when God sends someone your way.
When we open our eyes to see all God has for us, joy is always a result.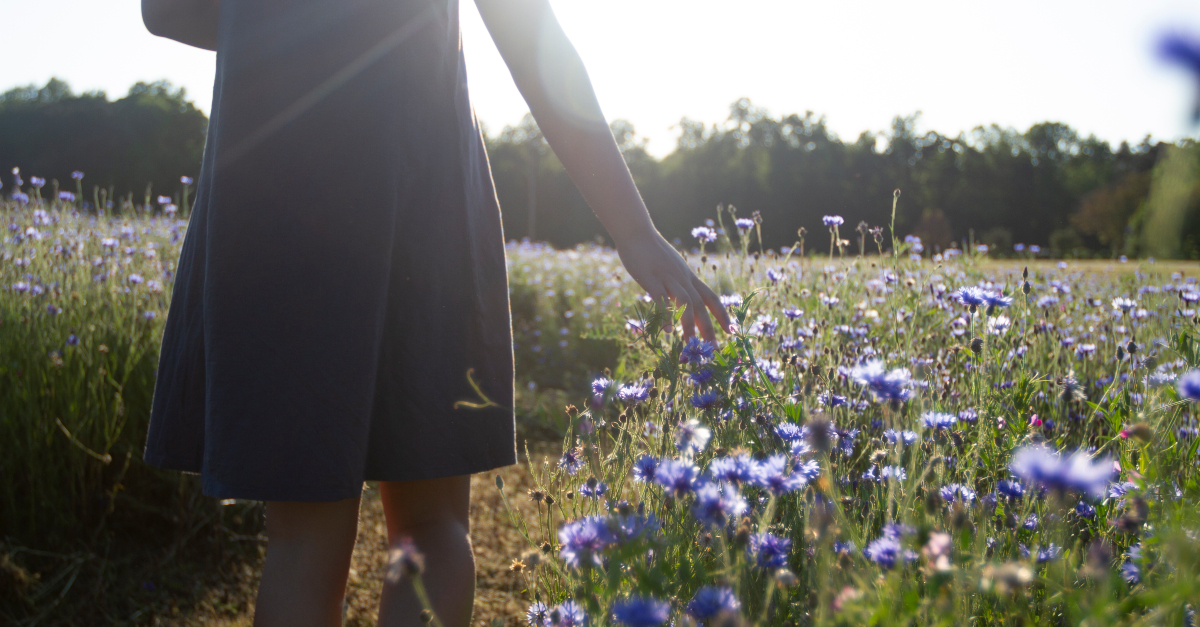 Photo credit: ©SparrowStock
4. Count It All Joy When You Hear
"I sought the LORD, and he answered me and delivered me from all my fears" (Psalm 34:4).
Listen. Do you hear that? There are so many noises all around us each day, it is easy to drown out the still small voice of God. But if you've heard from God, you know very well the joy it brings your heart.
The best way I love to hear from God is through the Bible. I simply open it and ask Him to speak to my heart. I read until He speaks. Then I stop and listen. This practice of communing with God brings me joy. And it can bring you joy too. It's a daily joy I get to count to open God's Word.
5. Count It All Joy When You Walk
"Enoch walked with God, and he was not, for God took him" (Genesis 5:24).
Every day we have the opportunity to rise up and walk. I love this verse because we don't know too much about Enoch except that he did walk with God. Whether you are simply walking to the mailbox to see what came in the mail today, or taking a long power walk to get your blood pumping, this is a great time to count joy and walk with God.
I actually take a short daily walk around lunch time just to remind myself I can get my heart to beat a little faster and breathe a little harder. It's a great reminder to find joy in the mundane moments of the day. To notice the fresh air, the sky, the trees. Whatever it takes for you to remember God and that there is always a reason to be joyful.
6. Count It All Joy When You Face a Trial
"Count it all joy, my brothers, when you meet trials of various kinds" (James 1:2).
I saved this one to repeat because it seems the most difficult. Can we really count joy when we are facing trials? I believe we absolutely can. But only if we are willing to count joy in the ways and for the reasons mentioned above. Without being thankful for the life and breath God has given us, we will surely live discouraged without true joy.
Without recognizing God's creation and the way it looks, and sounds, we won't truly be able to grasp the goodness of God. In His grace He makes the sun shine every day. He makes the moon come out and brighten the night sky. He gives power to wind and waves, but also holds the power to calm them.
God isn't waiting to steal your joy by letting you walk through trials. He's still there with you in them. His sun is still in the sky. His light is still shining brightly. His hope is still alive. And His help is absolutely available to you. There is always a reason and a way to count joy. Take a deep breath. Look around. Listen. And maybe even take a walk.
Related articles
The Beauty of Seeking Both Joy and Happiness in Christ
What Is Joy in Christianity?
What Does "the Joy of the Lord Is My Strength" Mean in the Bible?
Photo credit: Unsplash/aaker
---
Micah Maddox is a women's event speaker, Bible teacher, and author of Anchored In: Experience a Power-Full Life in a Problem-Filled World. She is passionate about helping women find purpose, peace, and calm in our chaotic world. Micah is on the Proverbs31 Ministries First5 Writing Team. As a pastor's wife and mother of four, she contributes her time to her family and local church serving as a women's ministry leader. Micah loves to give a voice to hurting hearts and writes and speaks to the one who needs encouragement. You can connect with her at micahmaddox.com or on YouTube. You can find her book here.