"And God is able to bless you abundantly, so that in all things at all times, having all you need, you will abound in every good work" (2 Corinthians 9:8).
Counting our blessings requires a shift in perspective. Our Father's thoughts are not our thoughts, nor are His ways our ways. If we drift towards the comparative structure of societal materialism, allowing social media feeds and nightly news reports to determine how satisfied we are with the status quo of our lives, we'll embark on a never-ending quest of never enough.
This world is marinated in worry and fear. "Paying attention to what we are grateful for puts us in a positive frame of mind," wrote Lisa Firestone, Ph.D, for Psychology Today, "Research demonstrates that focusing on what we are grateful for is a universally rewarding way to feel happier and more fulfilled."
The Creator of the universe holds each of His children in the palm of His hand, giving us what we need for each day. Now more than ever, we don't know what each day will bring. Our calendars are constantly in flux as we erase and re-plan. But the chaos of the world we live in is in the capable hands of our great and good God. When we set our minds on the blessings in our lives, like the classic hymn sings, "God is over all."
What Does it Mean to Count Your Blessings?
"And the peace of God, which transcends all understanding, will guard your hearts and your minds in Christ Jesus" (Philippians 4:7).
Scripture is full of definitive reminders of God's blessings. The grateful assurances within the classic hymn, "Count Your Blessings," positively realign our minds. Paul faithfully reminded the church at Galatia, "It is for freedom that Christ has set us free. Stand firm, then, and do not let yourselves be burdened again by a yoke of slavery" (Galatians 5:1).
The yoke Paul inferred is being chained to what we do or don't do, allowing ourselves to feel shame and guilt even though Christ's death negates both! Our sinful nature, and the downward spiral of a world that needs its Creator to set it right once and for all, is going to wreak havoc on our earthly lives. But our hope is not earthly, it's divine, eternal, and rock solid.
5 Ways Counting Your Blessings Can Change the Trajectory of Your Day
1. Remember
"And my God will meet all your needs according to the riches of his glory in Christ Jesus" (Philippians 4:19).
Prayer journals are amazing tools for tracing answered prayers, but are not required to remember where God has come through for us in our lives. He is close to the brokenhearted, and He hears our prayers!
Every answer doesn't look like a blockbuster miracle, or even the direct answer we prayed for, but He is moving and working in our lives every single day we wake to breathe. We can find hope even in the hard seasons we have endured. Vaneetha Rendall Risner wrote for Desiring God "My trial grounded my faith in ways that propriety and abundance never could."
In Christ, we get to experience friendship with the God of Creation. He knows what we actually need. When we pour our hearts out completely to God, the Spirit translates, and our sovereign God's heart is moved. Remembering who God is, and how He has answered our prayers in the past, helps us change the trajectory of our day!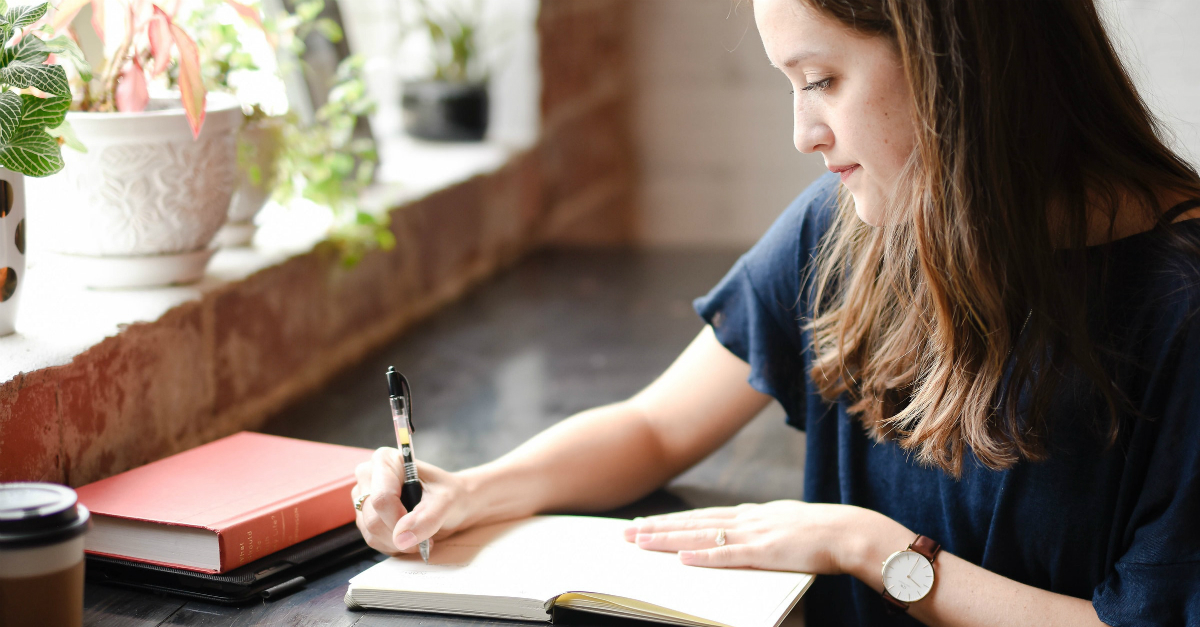 Photo credit: Unsplash/Hannah Olinger
2. Refocus
"Do not be anxious about anything, but in every situation, by prayer and petition, with thanksgiving, present your requests to God. And the peace of God, which transcends all understanding, will guard your hearts and your minds in Christ Jesus" (Philippians 4:6-7).
Psychology Today explains "gratitude is perhaps the most important key to finding success and happiness in the modern day." The accuracy of news reports and social media are difficult to discern. But there is one source of information we never have to question: the Word of God.
Alive and active, the same passage can move though our lives in different ways at different times. We have God's word to remind us of what is true, and it's important to refocus our thoughts when they start to go rogue with worry.
Paul reminded the Corinthians, "We demolish arguments and every pretension that sets itself up against the knowledge of God, and we take captive every thought to make it obedient to Christ" (2 Corinthians 10:5) We can lean on God's word, trusting it is relevant and applicable to our daily lives.
3. Move Forward
"But blessed is the one who trusts in the LORD, who's confidence is in him. They will be like a tree planted by the water that sends out its roots by the stream. It does not fear when heat comes; its leaves are always green. It has no worries in a year of drought and never fails to bear fruit" (Jeremiah 17:7-8).
When seeking to change the trajectory of a stressful and overwhelming day, choose to remember we are children of the Most High God, saved by Christ Jesus, and in-dwelt by the Holy Spirit. It's okay, and necessary, to fully feel all of our feelings. God designed us with emotions and sensitivities, they are not flaws.
The trick is not to stay in those feelings and emotions, but rather use them as a guide back to remember, refocus, and move forward. We can feel all of the feelings, but not stay stuck in them. They can propel us towards our God, who is amply ready and willing to help us take steps to fully live the blessed lives He's purposed us to, for His glory.
There are seasons in life when every day feels like a literal mystery, with everything we ever knew crumbling around us until all we're left with is the piece of land our feet occupy … and our faith in Christ. Our faith gives us permission to freely feel fear, but then remember, refocus, and face the future standing on the solid ground God has provided through Christ.
4. Trust God
"Give, and it will be given to you. A good measure, pressed down, shaken together and running over, will be poured in your lap. For with the measure you use, it will be measured to you" (Luke 6:38).
Moving forward takes trust! When we remember, refocus, and begin to move forward, it simultaneously requires us to trust God. Runners, when facing more miles than they have ever run before, battle the doubt that their bodies and minds can make it to the end goal. One stride at a time, the goal is not to stop, no matter how slow, hesitant, painful, or hard. At the end of a hard workout, race, or distance they've never run before, they experience what's called a runner's high!
The unbelievable feeling of trusting God stride by stride with the days of our lives is indescribably better than runner's high! It's a divine experience, developed and maintained by spending time with our Father in His Word and in prayer and worship daily. If we wake with breath in our lungs, we can trust fully there is purpose for us to walk out! Increased trust in God changes the trajectory of our days, and our lives.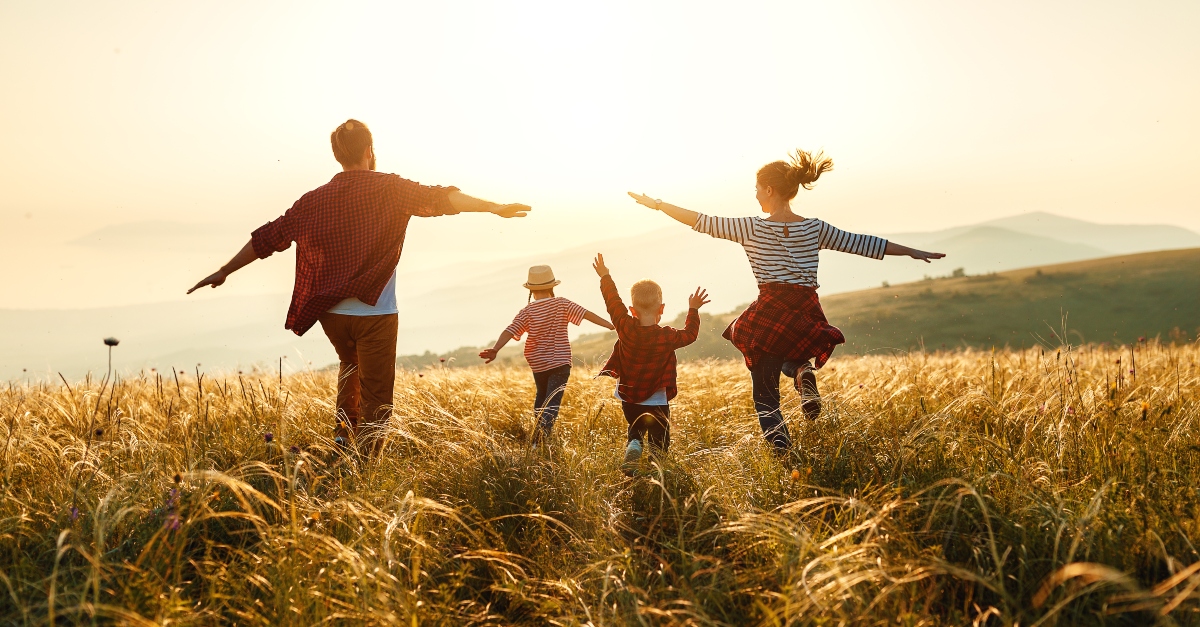 Photo credit: ©Getty Images/evgenyatamanenko
5. Hope
"Out of his fullness we have all received grace in place of grace already given" (John 1:16).
Remember, refocus, move forward, trust, and finally … hope. Our hope is not in the things of this world, or even in the other people Jesus commanded us to love as we love ourselves. Our hope is in Christ Jesus, who died to save us from the power of sin and its consequence of death, by humbling Himself as He died on the cross. In that moment, He took on what we could never bear. That's love. In fact, Jesus is God's most eloquent and extravagant expression of love for us. Christ will again return. There will be no more death, all wrongs will be made right, and sickness and pain healed.
Setting our hearts to the hope we have in Christ changes the trajectory of our day. We don't know what each day will bring. There is no way for us to predict what only God knows. He's left us with wisdom from His Word, and evidence of His presence in creation all around us. The love of Jesus Christ moves through every believer, both to give and receive love as we make His name known on earth. Everything we do is to bring honor and glory to God. When we let go of our agenda, set fleeting feelings free, we embrace the freedom that cannot be stripped by any earthly force or person. Free to live. Free to love. Free to hope. That is life in Christ.
Click here for more verse about God's blessings.
A Prayer to Count Your Blessings Every Day
Father,
You constantly show your compassionate love for us, in the way you provide what we need for each day. Thank you for comforting us when we are overwhelmed by the news reels of this world and the pain that surrounds most of us these days. Heal our anxiety and help us to wade through the worry to find your truth and love. Psalm 23:1-4 reminds us: "The LORD is my shepherd, I lack nothing. He makes me lie down in green pastures, he leads me beside quiet waters, he refreshes my soul. He guides me along the right paths for his name's sake. Even though I walk through the darkest valley, I will fear no evil, for you are with me; your rod and your staff, they comfort me." Strike the fear and worry from our lives when it wells up, Father. Help us to remember, refocus, move forward, trust you, and hold onto our hope in Christ.
In Jesus' Name,
Amen.
Every good thing comes from God. Blessing fills our daily lives, from the air in our lungs to the people in our lives. Instead of being bogged down by comparison and worry over a world we are not in control of, we can stride by stride follow Christ in the pocket of the world He has purposefully placed us in. No matter what is going on in the world, we can wake each day to pray and spend time in God's word. We can love the people in our lives, and serve our communities with the unique gifts we've been given.
When we set our lives to be channels of Christ's love, He is faithful to remind us of our many blessings. It won't be easy, but it will be worth it. "Authentic discipleship may exact from you the highest price relationally and the highest price physically," John Piper definitively explains. Even in the painful and trying times of life, living within the love of Christ is incredible.
Photo credit: ©Getty Images/happy8790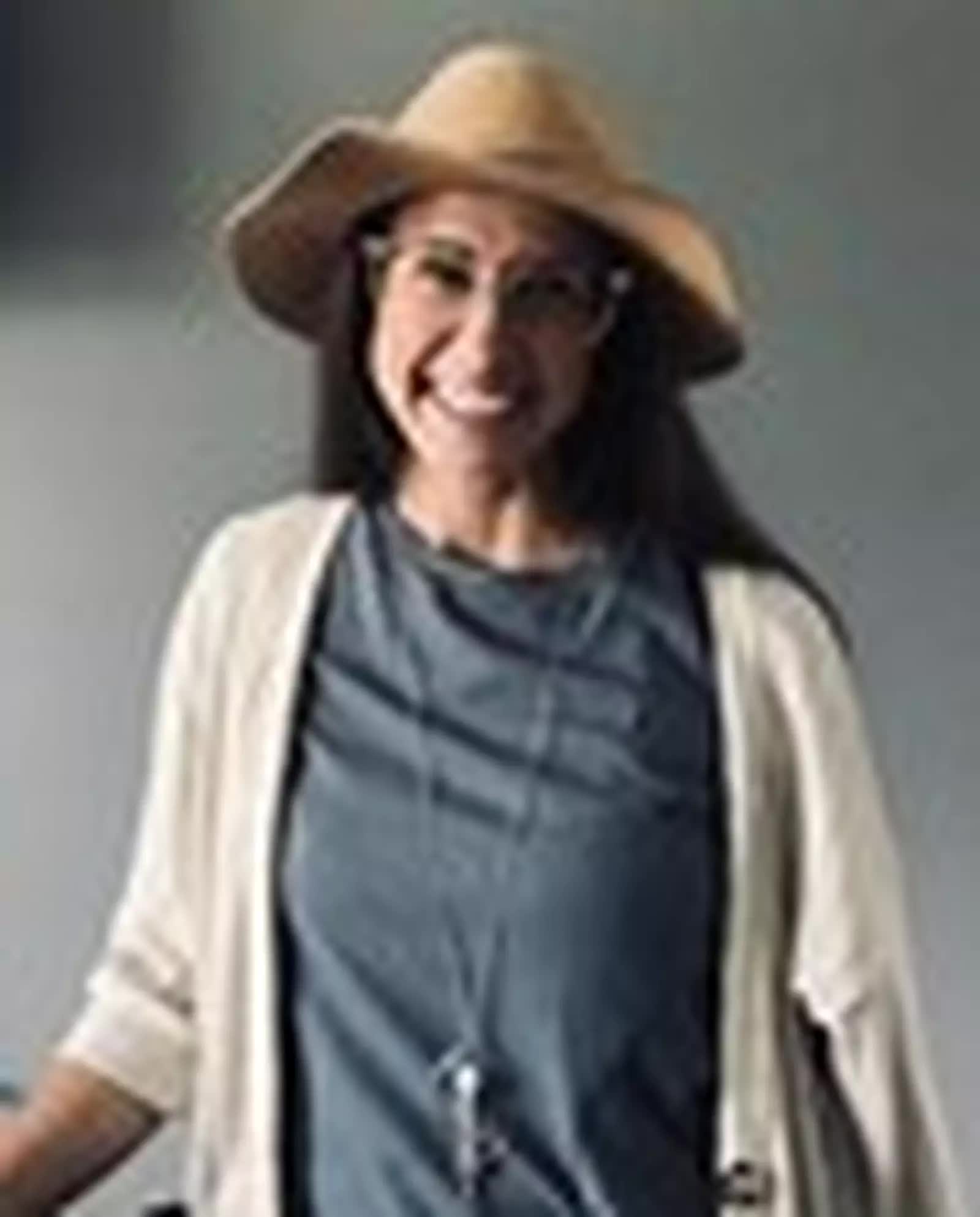 Meg, freelance writer and blogger at Sunny&80, is the author of "Friends with Everyone, Friendship within the Love of Christ," and "Surface, Unlocking the Gift of Sensitivity," She writes about everyday life within the love of Christ. Meg earned a Marketing/PR degree from Ashland University but stepped out of the business world to stay at home and raise her two daughters, which led her to pursue her passion to write. She has led a Bible Study for Women and serves as a Youth Ministry leader in her community. Meg, a Cleveland native and lifelong Browns fan, lives by the shore of Lake Erie in Northern Ohio with her husband, two daughters, and golden doodle.