Why Did Judas Take 30 Pieces of Silver for Jesus?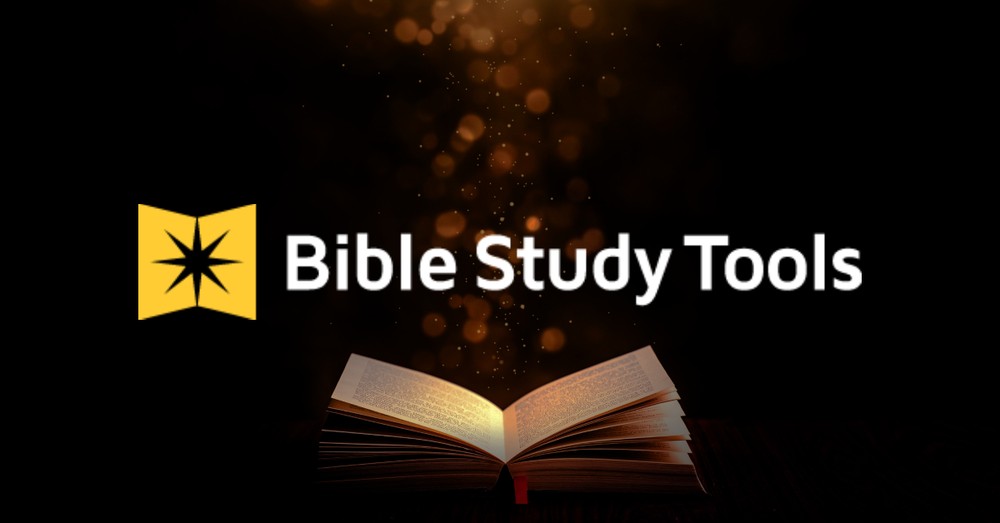 Of the many names and figures mentioned in the Bible, no individual bears the mark of treachery and shame more than Judas Iscariot. This name has become synonymous with betrayal.
The irony, of course, is that, as one of the original twelve disciples, Judas had walked as closely with Jesus as was humanly possible. For three years, he had traveled with Him, eaten with Him, listened to His teachings, and witnessed His miracles firsthand. And yet, rather than allowing the grace of Jesus Christ to transform his sinful heart, as was the case with the rest of the disciples, Judas would inevitably be overcome and undone by his greed and worldly ambition, betraying Jesus Christ, the perfect, sinless Son of God.
And what did Judas receive for his treachery? A meager 30 pieces of silver and a life of abject misery before his eventual suicide.
But why did Judas Iscariot take 30 pieces of silver for Jesus, and what is significant about this now infamous sum?
Why Did Judas Betray Jesus for 30 Pieces of Silver?
When it comes to Judas' motive for betraying Jesus, there are some things that the Bible makes clear about the betrayer. However, there's a lot we don't know, and it's important to distinguish between what Scripture says versus what theologians have speculated about Judas Iscariot over the years.
To start, we know that Judas was one of the original twelve disciples of Jesus and called by Jesus to be part of His inner circle. Judas' name appears last in every listing of the Twelve, except for Acts 1 (see the other listings in Matthew 10:2-4; Mark 3:13-19; Luke 6:12-16). He was also trusted to manage the group's finances as its treasurer (John 12:6).
Although the gospel writers each note that Judas would eventually become a traitor, there's little evidence to suggest that any of the disciples suspected Judas of treachery or were aware of his greed and tendency to embezzle funds from their limited treasury.
In fact, even after Jesus had told the Twelve at the Last Supper that one of them would betray Him, with Judas exiting mysteriously shortly after, the disciples assumed that Judas had simply gone to make arrangements for the feast or left to perform another errand on Jesus' behalf (John 13:26-29). Only in hindsight and with guidance from the Holy Spirit did the apostles reflect on Judas' true character and recognize that Jesus was referring to Judas as the betrayer all along.
In this regard, Judas had effectively concealed his true intentions and greed from the others, masquerading as a true believer the whole time. Jesus, however, knew Judas' heart. And though He knew Judas would betray Him eventually, He called him to become one of His disciples anyway. He gave Judas the same opportunity to turn from sin and embrace the gift of grace as the rest of the disciples. Judas chose a much different path.
As Pastor John MacArthur writes in his book on the twelve disciples, "he (Judas) had given his life to follow Jesus. But he had never given Jesus his heart." (Twelve Ordinary Men, 183). Likewise, "Judas was not attracted to Christ on a spiritual level. He followed Jesus out of a desire for selfish gain, worldly ambition, avarice, and greed… wealth, power, and prestige were what fueled his ambitions" (Twelve Ordinary Men, 184).
Whether Jesus had failed to increase Judas' wealth and influence or failed to live up to Judas' ideal of the conquering messiah who would lead Israel in overthrowing the Roman occupation in his eyes, we don't know. Somewhere along the way, Judas had lost faith and grown bitter and resentful towards Jesus.
Again, John MacArthur speculates that "Judas probably convinced himself that Jesus had stolen his life and robbed him of three years of money-making potential. That sort of thinking ate away at him until finally he became the monster who betrayed Christ" (Twelve Ordinary Men, 188).
The breaking point for Judas would come just days before Jesus' Triumphal Entry into Jerusalem.
While Jesus and His disciples were eating at a house in Bethany, John tells us that Mary, the sister of Martha and Lazarus, anointed the feet of Jesus with an expensive bottle of perfume (John 12:1-8).
Without question, this was an extravagant and beautiful act of worship. However, to an indignant Judas, Mary's gift was wasted. "Why was this perfume not sold for three hundred denarii and the proceeds given to poor people?" Judas argued (John 12:5).
John, however, reveals that concern for the poor was never Judas' true motivation. With the perfume "wasted" on Jesus, Judas saw an opportunity to enrich himself quickly disappear (John 12:6). This, apparently, was the last straw. Matthew tells us that after Jesus rebuked Judas, he sneaked away, walked about a mile and a half to Jerusalem, and sought out the Pharisees and religious leaders.
"Then one of the twelve, named Judas Iscariot, went to the chief priests, and said, 'what are you willing to give me to betray Him to you?' And they set out for him 30 pieces of silver. And from then on he looked for a good opportunity to betray Jesus." (Matthew 26:14-16)
The Pharisees had not approached Judas or tried to entice him to betray Jesus. Judas had gone to them, asking for the one thing his heart seemed always to desire: money.
They offered 30 pieces of silver, and Judas took it without hesitation or attempting to negotiate a higher price. As it is written, "for the love of money is a root of all sorts of evil, and some by longing for it have wandered away from the faith and pierced themselves with many griefs." (1 Timothy 6:10)
In Judas, the Pharisees had found a disgruntled and disillusioned disciple who could give them private information about Jesus and where He'd be.
From then on, Judas searched for an opportunity to betray Jesus.
Judas' treachery was not a spontaneous act of villainy or a momentary lapse in judgment. A single act of weakness did not bring him down. Judas' resentment had festered over time; his betrayal had been premeditated and carefully planned.
Judas' heart was already set on evil by the time he and the disciples arrived at the Last Supper. He had made up his mind and had become a willing instrument of Satan. At this point, all Jesus could do was hand Judas over to the desires of his heart. "What you are doing, do it quickly," He told Judas in the Upper Room (John 13:27).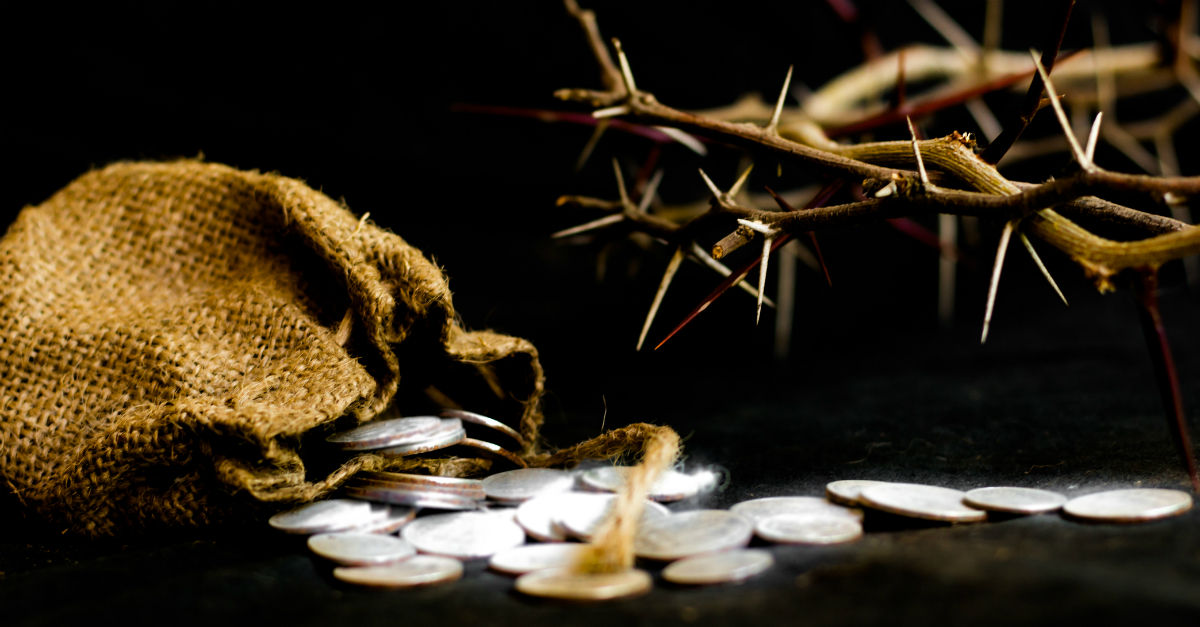 Photo Credit: ©GettyImages/gabrielabertolini
How Much Was 30 Pieces of Silver?
At face value, 30 pieces of silver would not have been an extravagant sum for Judas to receive. Comparatively, the perfume used to anoint the feet of Jesus was valued at three hundred denarii, nearly a full year's wages.
In the Hebrew Torah, 30 pieces of silver was also the price for a servant or slave (Exodus 21:32).
This begs the question: did the Pharisees set the price for Jesus at 30 pieces of silver to make a point? Was the cost of a slave their honest, undervalued assessment of Christ's worth? This is entirely possible.
But whether the Pharisees' offer was specifically linked to Mosaic Law or simply the low-ball price set for a greedy and impatient traitor with no bargaining skills, the Son of God was nonetheless betrayed for a price far below His eternal worth.
For comparison:
- the lords of the Philistines had offered Delilah 1,100 pieces of silver to betray Samson (Judges 16:4-6).
- a loyal subject of King David had refused to violate David's command by handing his rebellious son Absalom over to Joab, a commander in David's army. "Even if I should receive a thousand pieces of silver in my hand," he said, "I would not put out my hand against the king's son" (2 Samuel 18:12, italics added).
- later in the book of Acts, new converts and those who had previously practiced magic in Ephesus gathered their divination books and threw them into the fire in the sight of everyone. Luke writes that the price of their rejected books was calculated at 50,000 pieces of silver (Acts 19:19).
Though not specifically linked to Christ's betrayal, these amounts make the paltry sum offered to Judas for the betrayal of Jesus that much more humiliating.
After his betrayal, Judas would be consumed by guilt for his part in the death of Jesus. He, however, would find no absolution in the return of his traitorous fee or the arms of the Pharisees (Matthew 27:3-10).
Remorseful but unrepentant, Judas chose to commit suicide rather than seek forgiveness or cry out to God for mercy. And with the "blood money" Judas had returned, the chief priests would buy a Potter's Field as a burial place for strangers, fulfilling what was written by the prophet Zechariah (Zechariah 11:12-13).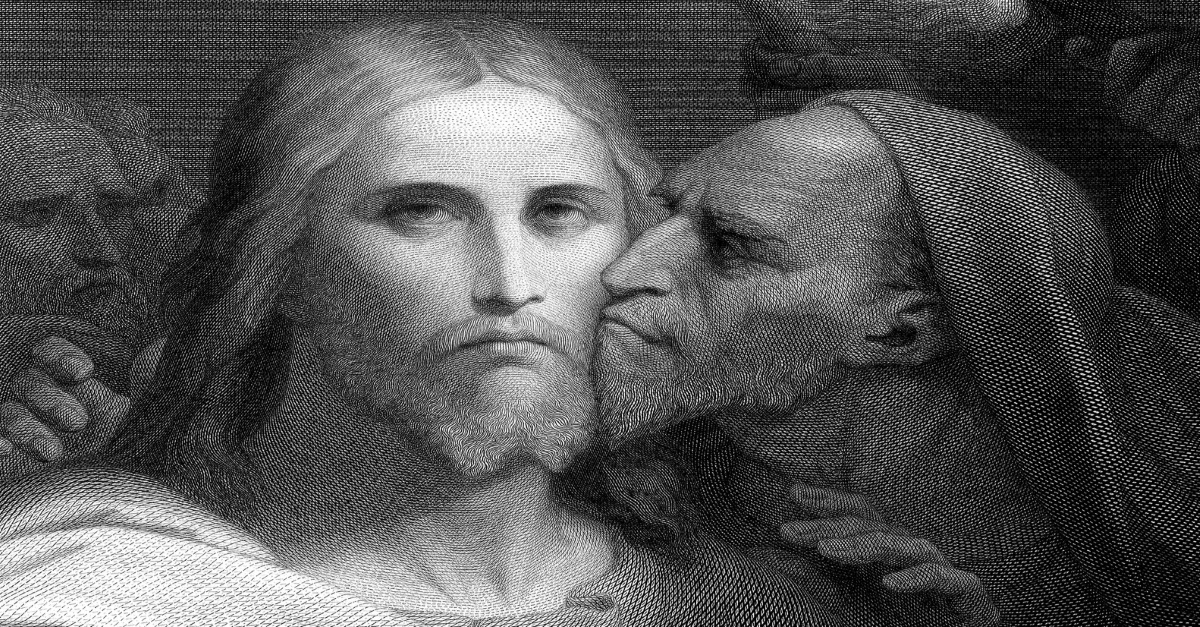 Photo Credit: Getty Images/italiansight
Where Else Does the Bible Mention 30 Pieces of Silver?
At the Last Supper, Jesus warned of coming betrayal but made it known that "this is happening so that the Scripture may be fulfilled, 'He who eats my bread has lifted his heel against me'" (John 13:18). Jesus' statement called back Psalm 41, in which it was prophesied that a "close friend" would ultimately be the one to betray the Messiah (Psalms 41:9).
That Christ, the perfect, sinless Lamb of God, would take upon Himself the weight and penalty of our sin, paying our debt and our ransom, so that we might be forgiven and free is nothing short of undeserved mercy.
Jesus was betrayed for a mere 30 pieces of silver. Our debt, and the debt He paid with His life, was indescribably greater.
The apostle Paul would later write, "our old self was crucified with Him, in order that our body of sin might be done away with, so that we would no longer be slaves to sin; for the one who has died is freed from sin" (Romans 6:6-7).
Furthermore, it would not be long after Judas had been paid the servant's price of 30 pieces of silver to betray Jesus that Jesus would act as the ultimate servant and wash His disciples' feet in the Upper Room, including Judas (John 13:5-20).
As Jesus had previously told His disciples, "whoever wants to become great among you must be your servant, and whoever wants to be first must be your slave— just as the Son of Man did not come to be served, but to serve, and to give his life as a ransom for many" (Matthew 20:26-28).
Sadly, Judas had heard these teachings and seen Christ model this character for three years. He had even been sent out and given authority by Jesus to preach, cast out demons, and heal the sick (Mark 6:7-13).
However, even having his feet washed by the one he had planned to betray was not enough to alter his course or soften his hardened, greedy heart.
Judas would scorn the gift of God's grace for a meaningless sum and exchange the treasures of heaven for the empty riches of earthly pleasures. In the end, neither the 30 pieces of silver nor his betrayal could satisfy or save Judas from a misery of his own making.
That being, it's also true that neither the Pharisees' pride nor Judas' greed could thwart God's ultimate plan of salvation. In Judas, we may find one of the most dastardly acts of betrayal ever recorded; in Christ's death and resurrection, however, we encounter a far superior act of love and mercy. And true to form, what others like Judas meant for evil, God in Christ meant for good (Genesis 50:20).
Further Reading
What Was Behind the Kiss of Judas?
Photo Credit: Getty Images/gabrielabertolini
---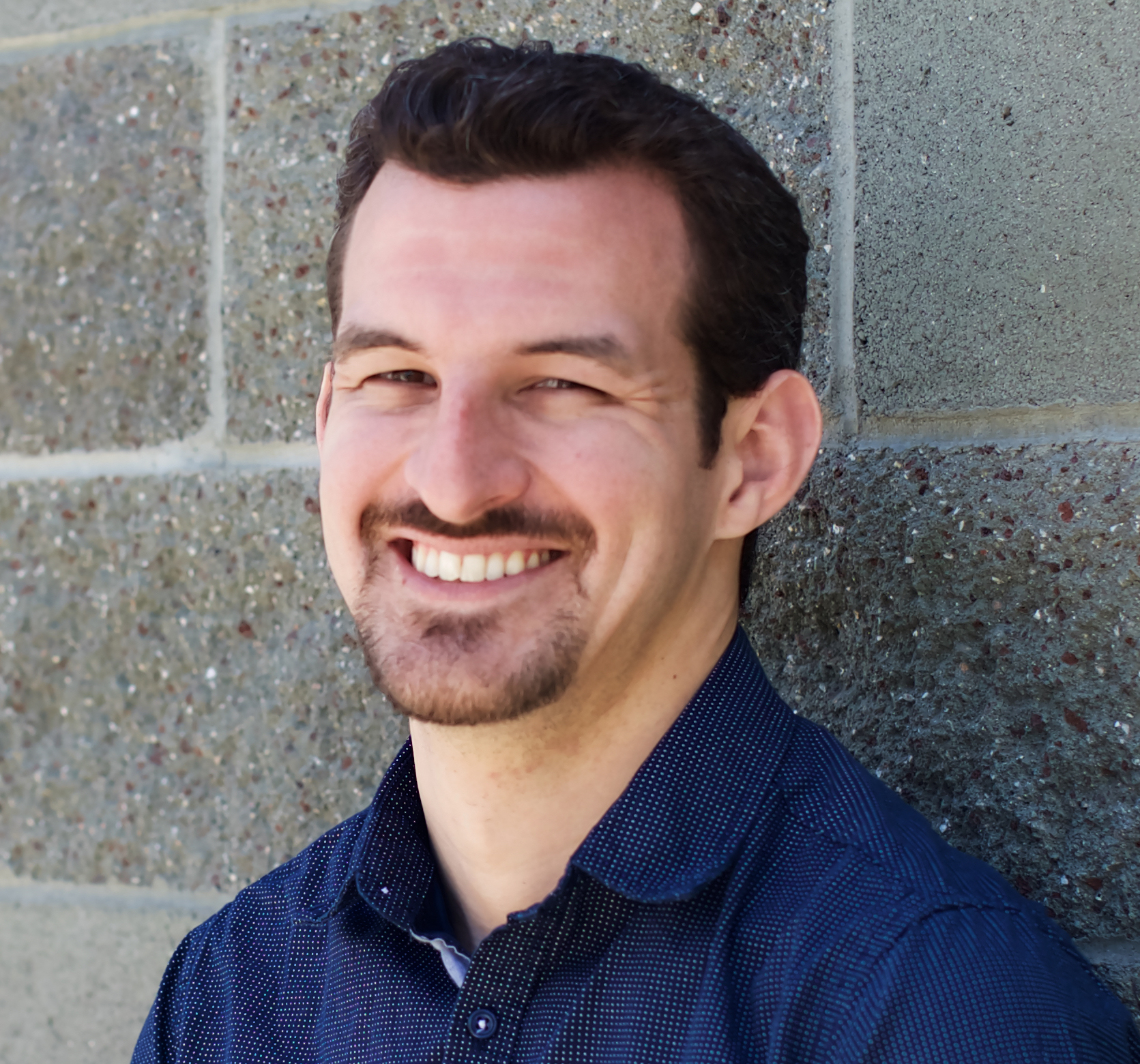 Joel Ryan is an author, writing professor, and contributing writer for Salem Web Network and Lifeway. When he's not writing stories and defending biblical truth, Joel is committed to helping young men find purpose in Christ and become fearless disciples and bold leaders in their homes, in the church, and in the world.
---
This article is part of our larger resource library of popular Bible verse phrases and quotes. We want to provide easy-to-read articles that answer your questions about the meaning, origin, and history of specific verses within Scripture's context. We hope that these will help you better understand the meaning and purpose of God's Word in your life today.
Listen to our Daily Bible Verse Podcast Now!
The views and opinions expressed in this podcast are those of the speakers and do not necessarily reflect the views or positions of Salem Web Network and Salem Media Group.