by John Barry, CEO of Jesus' Economy
We are all part of a story. We're living as part of a narrative. We're telling our story, with each act of each day.
Like the legends of old, we have an opportunity to decide what kind of people we will be. When faced with the problems of our world, will we step up and offer renewal and hope? Or will we cower back, backing away from the fight?
I have seen the problems of our world firsthand. I have witnessed the pain of our world and decided to live a grand adventure to do something about it.
My wife and I sold our house, most of what we own, left a great job, and followed after Jesus—for the sake of empowering the impoverished and bringing the gospel to the unreached (compare >Mark 10:17–27). God's next step for us was to "go all in"—that was the only way for the movement we lead, Jesus' Economy, to grow.
I made these decisions because of what I witnessed of global poverty—and the amount of people who have never had the opportunity to hear the name of Jesus. I couldn't live in a world where solutions were available to global poverty and bringing the gospel to the unreached and continue with "business as usual."
If we all lived a better story, we could reasonably end global poverty in our lifetimes. We could reasonably bring the gospel to those who do not have access to it. Here's how.
OUR STORIES SHOULD REPRESENT BIBLICAL VALUES
When it comes to what type of story I want to live, I regularly think of what the prophet Jeremiah said:
"Thus says Yahweh, 'Act with justice and righteousness, and deliver the one who has been seized from the hand of the oppressor. And you must not oppress or treat violently the immigrant, the orphan, and the widow. And you must not shed innocent blood in this place'" (Jeremiah 22:3 LEB).
This is what we are called to do, to deliver the oppressed—to be people who act with justice, who embody it. For the marginalized, immigrant, impoverished, and outsider, we are to rise up and care. We are to stand alongside the hurting and live as people whose lives are marked by these values.
Ending global poverty starts with your everyday decisions—how you use your finances and time. Likewise, bringing the gospel to the unreached is within our grasp—if we all just lived a little more sacrificially. If only we embodied what the Bible actually says, everything would be different.
THE AMERICAN SITUATION COMPARED TO THE GLOBE
The situation we have in America of easy access to food, water, and medical care is not the case elsewhere in the world. To give you an idea of the situation around the world, here are a few significant facts.
In a Millennium Development Goals Report from 2015 by the United Nations, there is one line in particular that is incredibly shocking:
"Projections indicate that in 2015 more than 600 million people worldwide will still be using unimproved water sources, almost one billion will be living on an income of less than $1.25 per day, mothers will continue to die needlessly in childbirth, and children will suffer and die from preventable diseases" (MDGR, pg. 3 of the Foreword by Ban Ki-Moon).
This is the story people in developing countries live with. This term, 'developing,' refers to the situation of general economic poverty. America, on the other hand, would be called a 'developed' nation. And yet, our resources for the most part stay with us. We as individuals and as a nation are by and large ignoring the real problems facing our world.
The people in developing countries experiencing issues of extreme poverty need our assistance. They need us to come alongside them to empower them.
But they need more than mere meeting of basic needs. That's a start. We need to help create sustainable jobs for those living in poverty, so they can lift themselves out of poverty.
We also need to meet spiritual needs. Throughout our world, oppressive religions and corruption are plaguing societies. We need a Christian presence in every corner of the world, offering liberty and freedom.
WE CAN DO SOMETHING ABOUT THIS
I believe it is our time and it is our hour. I believe that Christ will transform lives through the work of our hands. That power is in your hands.
And lest someone tell you that you can't do something about it, let me remind you of Paul's words to his young apprentice Timothy:
"Do not let anyone look down on you because you are young but set an example for the believers in life, in faith, in truth, and in purity" (1 Timothy 4:12).
Young or old, we can live by example. We can live a better story, for the sake of the impoverished and unreached.
This principle guided me throughout my young years. And it guides me today to continue living this story, despite how hard and painful it is.
What type of story are you going to live?
This long-form article is part of the Jesus' Economy weekly series, "Living for Jesus." You can find the original article, What Type of Story Will You Live?, here. 
---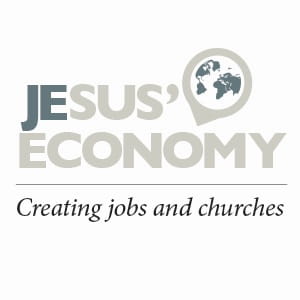 John D. Barry is the CEO of Jesus' Economy, an innovative non-profit creating jobs and churches in the developing world. At JesusEconomy.org, people can shop fair trade and give directly to a cause they're passionate about, such as bringing the gospel to unreached people groups. John is also the general editor of Faithlife Study Bible and the author or editor of 30 books.