ESV Global Study Bible (Crossway)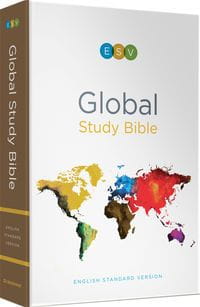 God's Word is truly for all nations. After all, Revelation gives us a glimpse of those tribes from everywhere that will celebrate together in heaven (Revelation 5:9). And the goal of the new ESV Global Study Bible is to take Scripture to the world..
This Bible contains the quality notes and insight that you've come to expect from the ESV study materials, including maps, timelines, and character profiles. But here you'll find a true global Christian perspective on applying Scripture to our lives. Articles by Christian leaders from around the world help us see that the Church isn't just in the West.
When you purchase the Global Study Bible and register on their site, Crossway will also make a copy of the Bible available to someone in a country where the need is the greatest. As they say, "Buy 1. Give 1."
Great for: students, pastors, missionaries